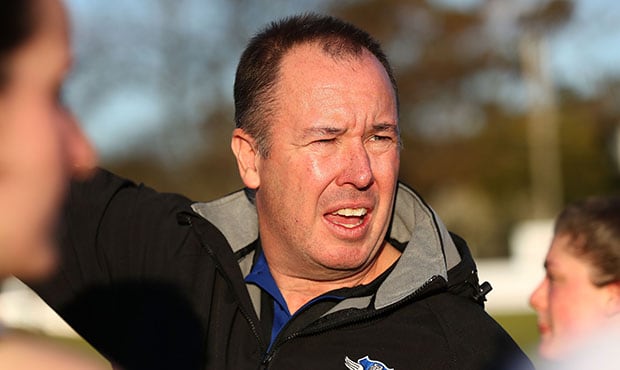 Only three words are needed to understand Scott Gowans' approach to coaching.
"Clarity, communication, and preparation," the North Melbourne Tasmanian Kangaroos' head coach told North Media.
"These three words form my coaching philosophy, and if you take these words, it basically pulls everything together.
"In a game it would come to clarity of your role, communication to get the ball or help someone else, and preparation of being fit enough and ready to play.
"But It's no different if you take those three things off field, and bring it to coaching, staffing, or anything else."
Gowans' philosophy is integral with the unique set up of having Tasmanian and Victorian based players and staff.
"I don't think the synergy between having players in Tasmania and Victoria and only coming together every couple of weeks will make any difference," Gowans affirmed.
"There are two ways to look at it; you can either draft or recruit players that were ready to move and then have all your players together - but then you're taking them out of their home environment and work and the way that they live.
"For us, it's important to facilitate a program that allows our players to live wherever they want, and they can train at a particular base or separately so they don't have to travel throughout the week."
Giving players flexibility is an advantage to North but also to local footy in Tasmania.
"The great thing is, that we're also able to combine the next level of footy as well," Gowans explained.
"The senior academy and the under 18s will come up and train with the AFLW players in Tasmania. They'll get a chance to see what it's like to be an AFLW player and it will give the AFLW players a team to train with in return."
Besides Gowans' philosophy and the unique geographical arrangements, North's football operation is also one of a kind.
"We have three full-time staff in operations, strength and conditioning and coaching. So that's very different from the other clubs," he said.
"Having full-time roles gives us each the time and space to concentrate on one area, but also work together to build the best program we can. We also use all the part time staff and are able to take on all the expertise and really do something with it."
Additional expertise is added with Tasmanian-based staff.
"Trent Bartlett will be one of the assistant coaches in Tasmania and he is very passionate about female footy. Trent's role will be to basically facilitate what happens with the academy, the under 18s, and AFLW," Gowans said.
"Jacks (Jacqueline Liffiton) is our high-performance coordinator in Tasmania and she's been there the last four years so she has a great handle on the girls and the talent there."
Gowans is optimistic about North's first season and believes entering the competition in its third year is an advantage.
"We've had time to learn off of other people's mistakes," Gowans said.
"All due respect to the four Victorian clubs that did it in year one, they basically put a program together and had six weeks to pick a team and get going and that's tough.
"I think that we've been able to take the good and the bad and put it all together.'
"Clearly, we'll make mistakes along the way as well, but we're able to eliminate those bigger mistakes and control a few more things than they were. I suspect the argument that we're brand new to the competition and can't impact, is completely out the window.
"I really do believe that we have a huge advantage."
The views in this article are those of the author and not necessarily those of the AFL or its clubs