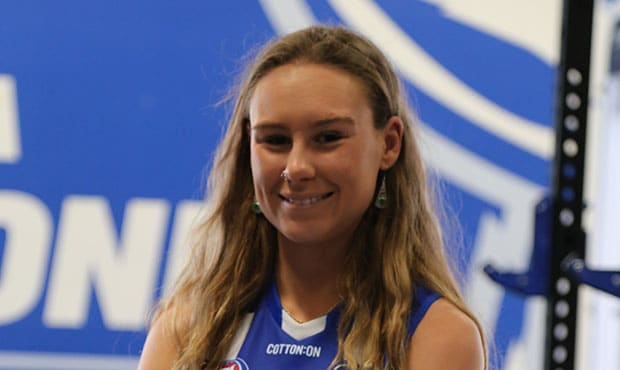 Name: Beth Lynch
Nickname: Rat/BL
Position: Wing/Back
Recruited from: Richmond Vflw
Most underrated AFLW player: Phoebe Monahan
Best advice you've received: Why wouldn't you do it?
Greatest footy moment: Yet to happen hopefully
Favourite AFLW player: Emma King
Team barracked for as a kid: Gold Coast
Most inspiring movie: Coach Carter
Best concert attended: Bleach Ep Launch
Three apps you can't live without: Bumble, fortnite and Stocks.
Instagram or Twitter: Instagram, Twitter sucks
Favourite café: Mystics coffee house
And what do you order: Large extra hot, 3/4 Turmeric latte, half almond milk, half soy milk, with a dash of cold water and 1 and 3/4 sugar
Hidden talent: Performing
Guilty pleasure: A nice quiet glass of Death by Beth
Your passions or interests outside footy: Routine checkups on scaffolding licenses
Life motto: Religion is like margarine there are so many different types
Your best traits are: Being funny, being able to watch the same tv shows 10 times, walking my dog.
Do you have any pets: Yes a groddle named gryff
Favourite cartoon or movie character: Amy Santiago
Favourite holiday spot: A stunning lakeside town called Murtoa