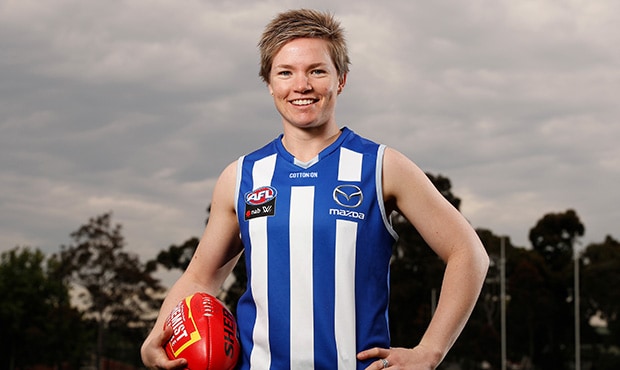 Jess Duffin has capped off a stellar year with a place in the inaugural North Melbourne Tasmanian Kangaroos' leadership group.
A staple of consistency, the dual sportswoman earned a range of accolades for her on-field performances, winning the Lambert-Pearce Medal as the VFL Women's best and fairest in 2018.
The 28-year-old was also named captain of the VFL team of the year.
Despite her accomplishments, Duffin was surprised to receive the call, confirming her role as the Roos' deputy vice-captain.
"I'm shocked. I got a phone call while I was at work," Duffin told North Media.
"[I am] pretty stoked, obviously the group that we have and the leaders that we have, to be deputy vice-captain."
There are many traits that make a formidable leader, but in Duffin's eyes, form isn't one of them.
"I don't think [being] deputy vice-captain has anything to do with form," she revealed.
"It's more how you lead the group and how you get the group together, but I certainly had an enjoyable year down at Williamstown and hopefully that will continue on into the AFLW season."
When probed on her leadership style, Duffin admits that her approach mirrors that of her footy.
"I think it's more straight down the line," she said.
"I'm quite an honest person and everyone that's been around me knows that, so that's what these guys expect from me. The girls will certainly be hearing from me every now and then this year."
Duffin will join the league's best and fairest Emma Kearney, who has been announced as North's captain, alongside vice-captain Britt Gibson as well as Kaitlyn Ashmore and Emma King, who form the broader leadership group.
"It always helps coming into a first year in a club to have so many strong leaders in it," she said.
"You know you really can't start poorly or anything like that. I'm looking forward to Emma captaining us and getting us to the spot we need to be in a few weeks' time."
Kearney, who has formed a strong relationship with Duffin during their time as cricketers, praised her teammate for the decisive outlook she will bring to the group.
"For the role as deputy vice-captain, she'll be that really good leader, she'll be pretty brutal with the way she goes about things. She will tell you how it is, but in a really positive way," Kearney said.
"She's one of those ones that you can really challenge and she'll challenge you as well.
"For me as a leader, having someone like her in the leadership group, if I make a decision, she'll then challenge it, which I think is a really good thing. But she'll then challenge the others in the team, which will be great."