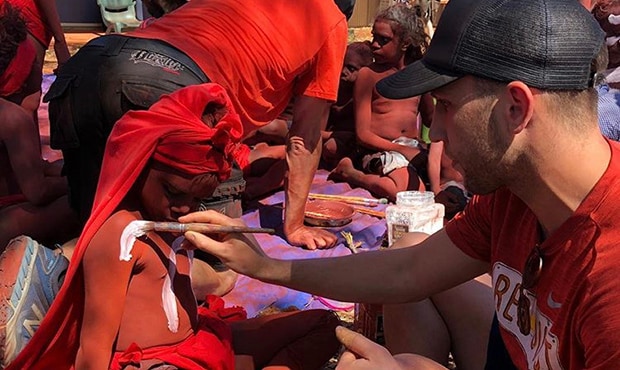 It wasn't a trip to the United States, nor was it a holiday to the sunny beaches of Bali, but a trek to a remote Northern Territory community that was enough to recharge Jamie Macmillan's batteries during the off-season.
The North Melbourne defender travelled to Yuendumu, Northern Territory with Roos ruck coach Will Minson and teammate Jy Simpkin, a trip that would open his eyes to another side of Australian life.
The group travelled as a part of Red Dust, an organisation which focuses on educating Indigenous communities about the connection between lifestyle choices and chronic disease.
The experience is one the 27-year-old always wanted to be a part of.
"I have always been pretty naïve when it comes to that part of Australian culture and history,' he told AFL Players.
"It's fair to say I came back having learnt a lot (about their community) but also quite sore from the amount of footy I played,"
"It was almost like I thought I knew but you go there and realise that you know not even one per cent of their culture and history,"
"I went in not really expecting much but just to go in and see what the week brought. To be honest, I probably still only know one per cent but I have learnt a hell of a lot."
Playing alongside four Indigenous players at Arden Street, Macmillan believes the experience can help him become a better teammate.
"I would encourage people to try and get involved. The history of our game is rich with indigenous players, past and present, but I think we are really lacking in our understanding of where they come from and their history," Macmillan said.
Fortunate enough to be able to shed light on the important work being done in rural communities, Macmillan hopes his lending hand can inspire others.
"I realise now that while I don't have the biggest profile of anyone by any stretch of the imagination, if I can touch just a few who perhaps have never heard of these organisations that is something I want to do," he added.
The views in this article are those of the author and not necessarily those of the AFL or its clubs