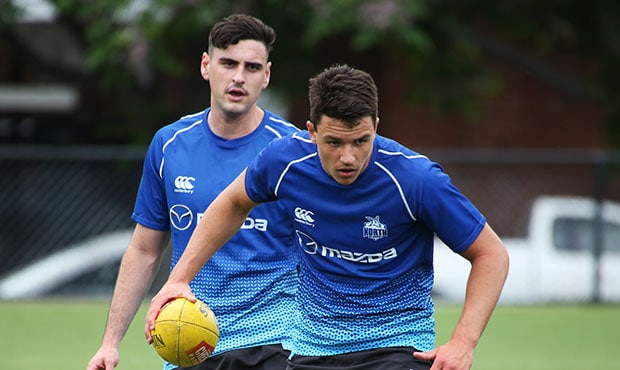 A group of familiar faces returned to Arden Street on Monday, as the pre-season training block got underway.
The first-to-four year Roos, as well as sixth-year player Jed Anderson, officially returned to training after a well-earned off-season in preperation for the 2019 season.
Notably, Ed Vickers-Willis and Will Walker were on hand after their respective seasons were cut short with knee injuries, Cameron Zurhaar was in action having recovered from his broken ankle, Sam Durdin participated after breaking his leg earlier in the year, while Declan Watson and Kyron Hayden looked good after injury interupted years.
See some of the best images from the group's first day back here:
The group return

Ben McKay

Sam Durdin and Tristan Xerri

Luke Davies-Uniacke leads Jed Anderson, Ben McKay and Paul Ahern.

Will Walker

Luke Davies-Uniacke and Paul Ahern

Paul Ahern

Tom Murphy leads Jy Simpkin and Assistant Coach Rhyce Shaw.

Declan Watson.

Cameron Zurhaar

Nick Larkey

Kyron Hayden

Tom Murphy

Jy Simpkin

Jed Anderson

Ed Vickers-Willis
The views in this article are those of the author and not necessarily those of the AFL or its clubs