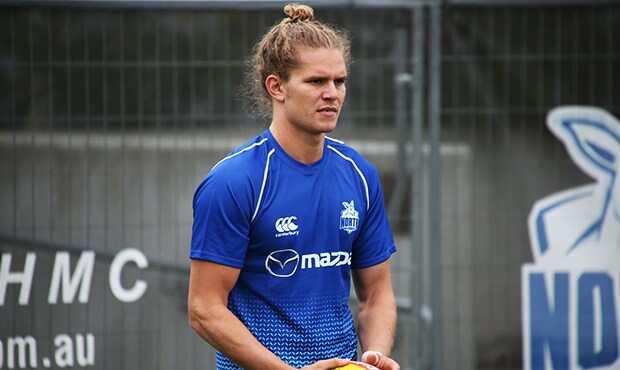 2018 was undoubtedly Jed Anderson's best season to date, but the 24-year-old is refusing to rest on his laurels.
Anderson returned to pre-season training on Monday, a week earlier than expected, with the aim of continuing his upwards trajectory and reaching new heights next year.
"It's been good getting out there with the first-to-four year players and just enjoying my time with them and getting a little bit of fitness," Anderson told North Media.
"(Coming back early) was just about getting back into the routine, starting training, getting back into the gym and this environment and doing some heavy lifting with the boys."
Having announced he would extend his time at Arden Street in early October, the midfielder is currently injury free and ready to hit the summer head on.
"I'm really confident heading into the pre-season," he said.
"I'm looking to back up what I did last season, have a good pre-season and get stuck into it when games do come around."
Anderson has already started working towards that goal, with a trip back home in the off-season not only allowing Anderson to recharge his batteries, but also giving him the opportunity to link-up with a former Roo.
"I just went back home to Darwin for a bit with Nicki and the two boys," he said.
"I spent most of my time fishing and hunting up there, and just relaxing the sun."
"I went down to the Darwin Buffaloes with Matty Campbell and I had a bit of a kick and a run around with them too, which was good."
Although the group of young Roos are only less than a week into its pre-season schedule, Anderson has been impressed with the away it has applied itself to the training block.
"They're looking really good and sharp," he added.
"They've done some work over the break so they're looking really good and ready to get stuck into the next few weeks with the older boys coming back on the 19th."
The views in this article are those of the author and not necessarily those of the AFL or its clubs