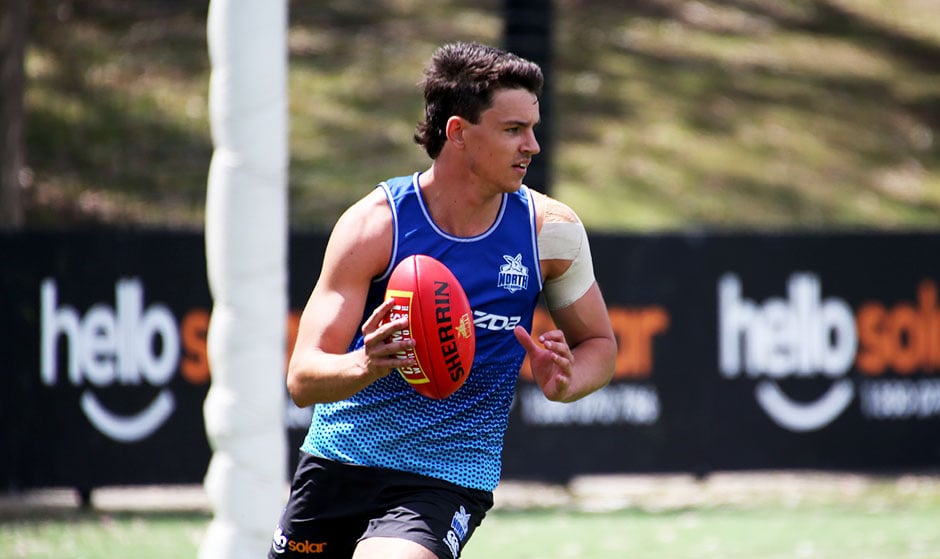 For North Melbourne's Luke Davies-Uniacke, an off-season trip to Byron Bay with Shaun Higgins has kick-started what he hopes will be a big summer.
In his second pre-season after being selected by the Roos with pick four in last year's NAB AFL Draft, Davies-Uniacke is looking to his senior teammates for guidance and inspiration.
"There was a group of boys, including Higgo, who went up to Byron Bay in the off-season," Davies-Uniacke told North Media.
"It was really good to get back training with intensity and learning how to set myself when I'm training alone, which is good.
"Now training with the likes of Jy Simpkin, Jed Anderson and Kayne Turner, who aren't meant to be back yet, is really good because they really lead the way for us young boys."
It's been a jam-packed 12 months for the 19-year-old, who this time last year, was preparing himself for the draft.
In his first AFL season, Davies-Uniacke played seven games, as well as spending time developing his craft in the VFL and learning the tricks of the trade.
"It's always good to know what you have to do and how hard you need to train," he said.
"It's just great to be back and just get in the rhythm of things.
"It's good to see all the lads again, but the hard work starts now."
Getting through his debut season relatively unscathed, the midfielder's feeling fresh, and ready to tackle 2019 head on.
"Monday's haven't treated me too well in the past," he joked.
"The body's feeling good though, I'm a bit sore and I'm falling into bed pretty early at night, so it's good."
With a lot of growth still on the horizon, Davies-Uniacke's main focus from now is not only on improving himself on the field, but also off it.
"I just get fit and show a bit more leadership out there, especially with a couple of new guys coming in from the draft," he added.