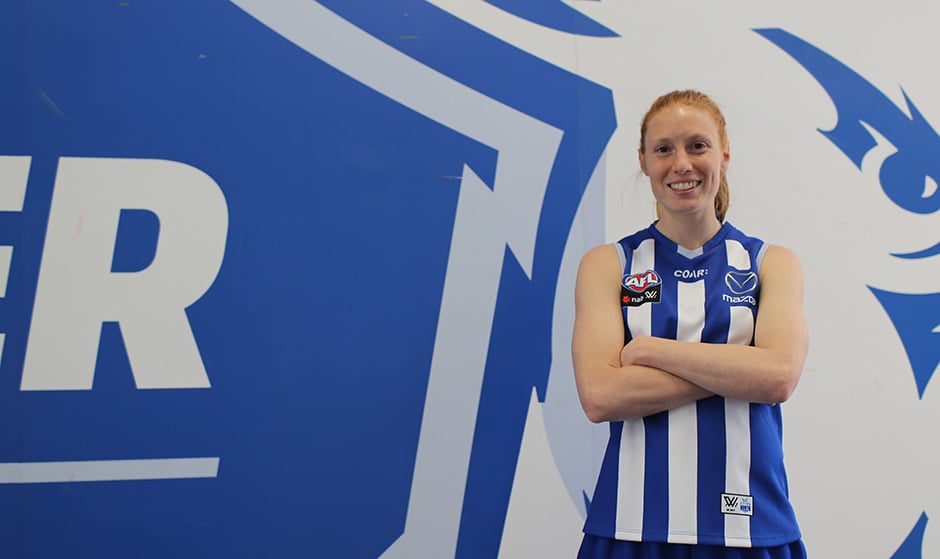 The excitement was palpable ahead of the North Melbourne Tasmanian Kangaroos' first training session at Arden Street on Thursday.
"It's an electric feeling as we're about to get started," Alison Drennan told North Media.
"It was great to hear the investment of everyone at the club and that there is so much heart going into this team. It's clear that this isn't just about footy, but about women and achieving whatever you want to.
"And now we're excited to just dig into it."
Before the girls ran out onto the ground, former club executive and lifelong North supporter Sonja Hood, spoke to the group with the Tasmanian-based members tuning in online.
"You are playing for a club that has been at the forefront of innovation and knows being better means being smarter and working harder," Hood said.
"You are playing for a club that has never been the darling of the AFL, but one that demands and earns respect.
"You might be pioneers in terms of women's football, but as of tonight, you are now part of 150 years of a strong and proud tradition that is the North Melbourne Football Club."
It has been a long journey since North obtained a license for the AFLW, and the Tasmanian-based players kicked off the pre-season on Wednesday night.
North AFLW coach Scott Gowans made the trip to Hobart while high-performance manager Alex Veitch flew to Launceston to lead the girls.
"The weather certainly wasn't ideal in Hobart, but everyone still got out there and the excitement to be together and moving forward definitely helped," Gowans told North Media.
"After all this planning it felt good to be together and see the girls out practicing in the royal blue and white."
The views in this article are those of the author and not necessarily those of the AFL or its clubs