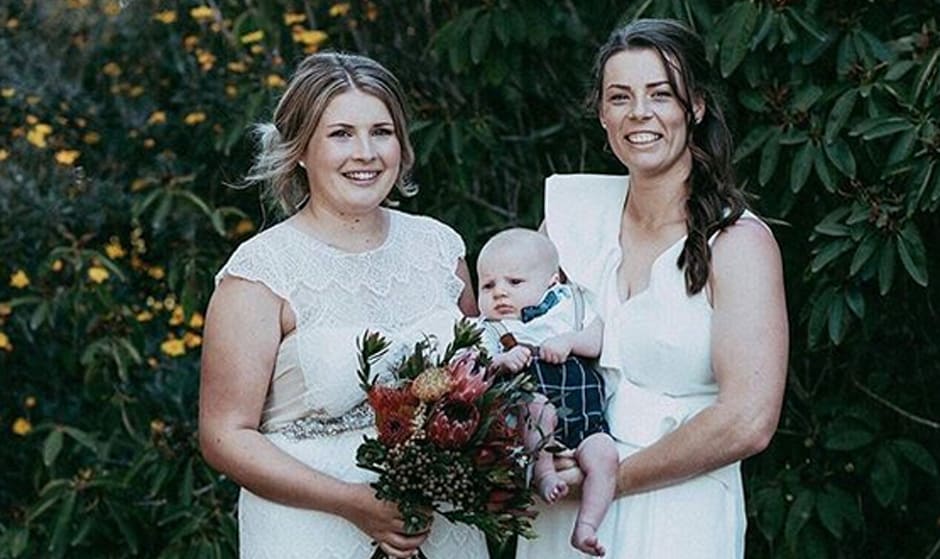 After experiencing some of life's biggest milestones in the off-season, Brittany Gibson has told of her renewed hunger and passion for football.
Originally from Tasmania, the 26-year-old has juggled a change of clubs from Brisbane to the North Melbourne Tasmanian Kangaroos, another interstate relocation, the vice-captaincy nod and the birth of her first child, Henry.
Add to that a wedding, where she married her long-time partner Jaime Bradley, and you can start to get a picture of just how busy she has been.
But it's all been for the better and those experiences and significant changes have only given her even more motivation to play.
"My drive has really been amped up," she told North Media.
"Because of everything that's happened on the outside, it makes it easier to focus on my footy.
"I guess I have a new lease of life in terms of my playing career."
A lifelong Roos supporter, Gibson is letting it all soak in.
"The last few months has put it all into perspective," she explained.
"When you've got a young family and having them move with me, it's a fresh start, especially being closer to home."
Gibson hasn't had much time to adjust with pre-season training starting last week.
"I'm excited to just be focused on football and what we can achieve together, as well as the year that's ahead and getting to know the girls.
"That includes playing back in Tassie in front of my family and friends. "
Despite being a newly formed team, Gibson said the players have already formed a tight-knit unit. Many of her teammates were guests at the wedding in Tasmania and had to put in a special effort to be there.
"They had to rush, coming down straight from training, just like I did," Gibson revealed.
"Everyone really made an effort to come over, with people flying in from interstate to be there. It was our closest friends and family, including people we met from our time in Brisbane, including some of the North girls. Emma (Kearney) was already down, so it was great for her to be there as well.
"The day couldn't have been any more perfect."
Despite all the chaos, Gibson wouldn't have it any other way.
"When we finally got home after the wedding, I remember thinking about how special it's been," she explained.
"I think that's pretty much been all the big things for us. We've had a child and gotten married, we've ticked all the boxes as we get settled into married life."
See some of the best images from the wedding below:


The views in this article are those of the author and not necessarily those of the AFL or its clubs