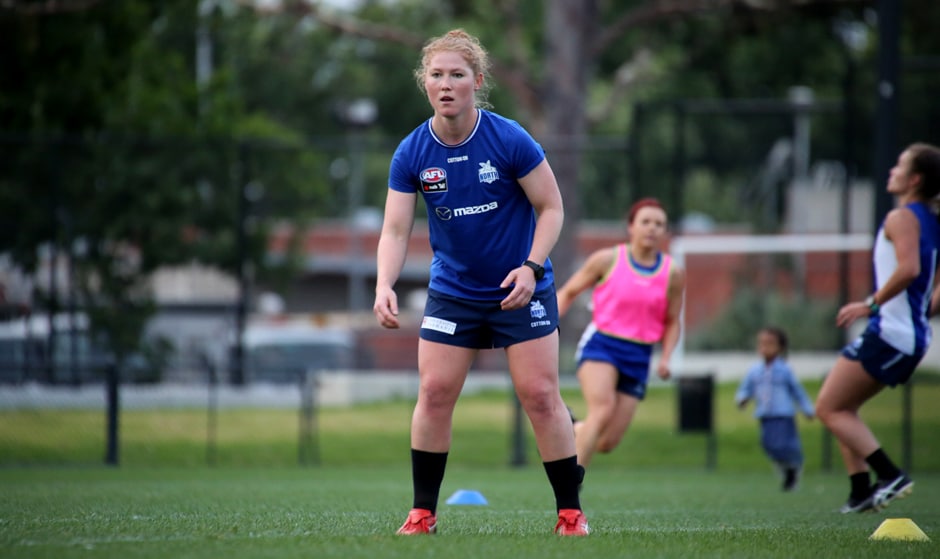 For Georgia Nanscawen, the transition from hockey to football has been worth the wait.
The well-travelled dual sportswoman was announced as a signing for the North Melbourne Tasmanian Kangaroos in May, giving her almost six months to prepare for pre-season training.
"It's been a really big build-up to this moment," Nanscawen told North Media.
"Finally stepping out on the pitch together. There was a lot of excitement and nervous energy too. I think it was all unleashed last week."
The 26-year-old hit the track alongside her fellow Melbourne-based team-mates at Arden Street and liked what she saw, particularly from former basketballer, Alison Drennan.
"I think Ali really stood out, particularly in the physical stuff," she explained.
"She's got a big sense of humour … I think we're all starting to get to know each other and I'm sure that will all come out over the next couple of months.
"We did some conditioning at the end and her Yo-Yo score was exceptional, she did really well."
Nanscawen is eager to make the most of her time, with only 24 sessions remaining until Round 1.
"I think it's just about gelling as a team," she said.
"We know we've got limited time, and in that time, to improve your skills a huge amount is going to be tough.
"I think it's [about] working together as a team, getting our game plan down pat and just gelling."
Nanscawen's time with Swan Districts in the West Australian Women's Football League (WAWFL) has allowed her to find perspective in her latest sporting pursuit.
"It's been good, I played footy all season in Perth in the WA league and I really enjoyed it," she revealed.
"I'm looking to bring some of that physicality that I brought with hockey over to football, it's brought back a new lease on loving sport.

"I had a great time and I'm looking to build on that."
The views in this article are those of the author and not necessarily those of the AFL or its clubs