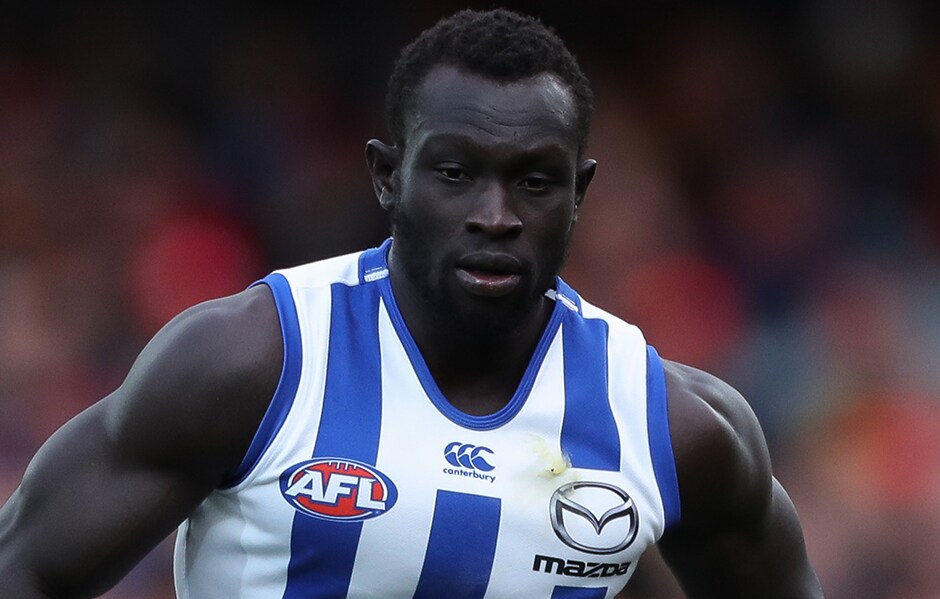 Reborn defender Majak Daw is excited about his scope to improve as he continues to learn his new role.
"I'm pretty excited to see what I can do," Daw told North Media.
"I've only played 50 AFL games, so I think that the more that I'm out there and can learn my craft, the better I can be.
"It's a pretty exciting phase for me."
After locking down a role in North Melbourne's backline in 2018, Daw impressed many spectators with solid displays.
And the stats backed up the North number 1's performances, with Champion Data ranking him as the fourth-best key-defender ahead of 2019, validating his and the club's persistence over his eight AFL seasons.
Daw's transformation into one of the best backmen in the competition has been a rapid one.
Rewind a year ago to the 2018 pre-season, and not even Daw knew what his role or future would be with the Kangaroos.
"This time last year I came into pre-season not really knowing what the plan was or what my role would be," Daw said.
"It took me a little while to get going, but I started to improve as a defender and really jelled well with Scotty (Thompson), Taz (Robbie Tarrant) and J-Mac (Jamie Macmillan)."
But it will be a different story heading into next season.
"It gives me more drive knowing my role, and I had a chat to Scotty (Brad Scott) recently where he explained my role will be as a defender again this year."
Daw played through the majority of last season with a fracture in his foot, after sustaining the injury in Round 5 against Hawthorn, with post-season surgery meaning he has missed the start of this pre-season.
But he is optimistic that it won't impact his development.
"I'm not too frustrated to miss the start of a pre-season," he said.
"Recovery has been pretty good, I'm on track.
"After speaking to the medical staff, there's no reason why I can't build my fitness base up to a certain level without running, and I'm just keen to make sure I get the foot right."
With North recruiting heavily in the trade and draft period, Daw is excited about the added competition for places.
"We need that healthy competition to keep challenging and improving each other.
"The addition of the new guys gives that as well, and it's good for our footy club.
"If you're not challenged and get settled you can take a backwards step.
"The club is in a good place and we are going to keep challenging other to improve."
One of the players pushing for senior selection is Ben McKay, who's work ethic on the off-season has impressed Daw.
"I've seen Ben McKay here quite a bit in the off-season when I've been in, and he's been working pretty hard," Daw added.
"He looks like he'll be ready come the season, and hopefully he gets some opportunities come JLT (Community Series) and play some games next year."