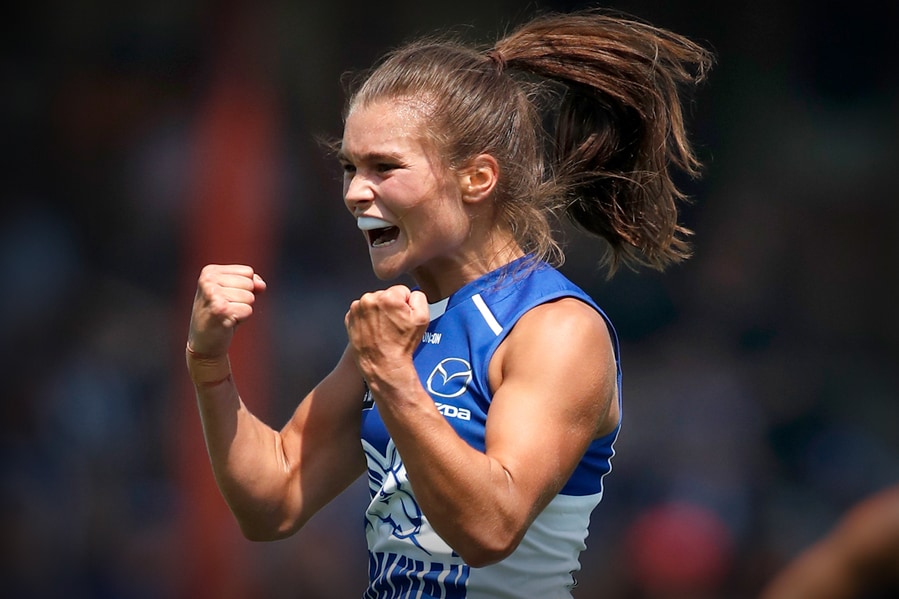 For Ash Riddell, the road less travelled to her AFLW debut was well and truly worth the wait.
After being overlooked in consecutive drafts, the running machine finally got her opportunity as the North Melbourne Tasmania Kangaroos scored a historic victory over Carlton.
"I was so nervous before the game," she told North Media.
"It's finally happened for me. It's been a lot of hard work but it's absolutely unreal to be playing for this footy club. They're a fantastic bunch of people."
The significance of the milestone was further strengthened by Riddell's memorable performance, booting the second goal when the game was still very much up for grabs.
When quizzed on the importance of her contribution, the midfielder was quick to shine the spotlight on her teammates, particularly spearhead Jas Garner.
"Jazzy gave me a good kick into the centre, so I was fortunate that she kicked it lace out to me," Riddell explained.
"Going back, I did not want to miss it. I was fortunate enough to get it in."
Riddell said the Roos' big win was the ultimate reward for hard work from a group that came together barely a few months ago.
"(It was) a really good testament to how hard this group has worked. To come together like that was absolutely fantastic."
After 16 disposals and four tackles on debut, Riddell will be looking for another big performance against GWS on Friday night in Sydney.