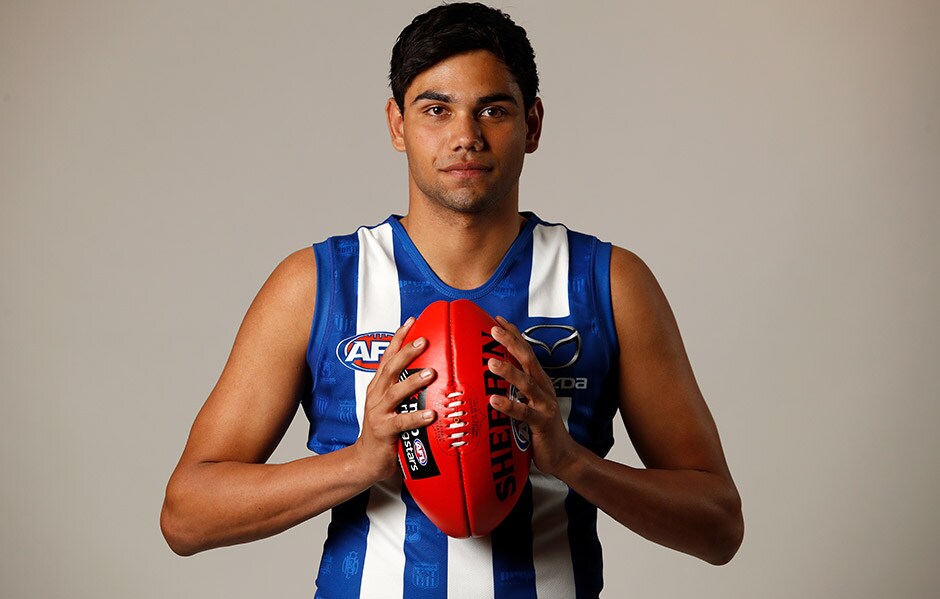 North Melbourne's draftees are just two months into their AFL careers, but that hasn't stopped them from making good first impressions at Arden Street.
Head Of Development Aaron Greaves spoke with North Media about the Roos' first-year players, and how they're progressing this pre-season.
Tarryn Thomas
"Tarryn's been really impressive so far.
"He's developed both on and off field and got some really professional habits in place, and I think we're now seeing him get the rewards for that on the track.
"Physically he's in a really good position to play AFL football and as a young player, it's about continuing to develop to face the physical demands of the game, to ensure he can get himself into the best possible position to play some good JLT games and go forward from there.
"He's been very impressive with his contest work, he's very composed with ball in hand, and I think all the players love the tackle pressure that he brings as well.
"He's been very exciting."
Curtis Taylor
"Curtis has progressed strongly since he first came in, He's made some really strong physical changes.
"He gets the most out of himself in every session and he's made some really good gains with his conditioning and his ability to cover the ground.
"His work-rate as a forward has been really strong, he's an extremely hard worker and is very diligent with his programs.
"He's shown some glimpses of what he can do and he's been a nice finisher in the match simulation that we've done.
"The thing that's probably impressed us most with him has been his hardness and commitment to the contest, and I think that's earned him a lot of respect early on."
Bailey Scott
"Bailey's a professional, he's very diligent with every part of his program.
"He gets the absolute most out of every day and I think that's why he's so well prepared to train and perform each day.
"He's got a really strong determination and is really strong mentally about where he wants to get to.
"His ability to cover the ground in his in-game running is something that you don't normally see in a first-year player.
"He's got some really strong AFL running attributes, so for him it's just about continuing to develop physically so that he can cope with the demands of the game.
"He's progressing really well, and he's certainly been impressive so far."
Joel Crocker
"From where Joel's come from with his injury interruptions in the past couple of years, he's probably made the most physical progression out of anyone.
"He was coming from a long way back, and the great thing about Joel is that he's been willing to listen and learn and build a really strong base to give him a good foundation to move forward.
"He got a fantastic result in the Yo-Yo test last week, finishing in the top few players, and when he walked into the club at the end of November, he wasn't in a position to do that.
"He's been really, really diligent.
"In a way he's probably lucky to work with some great guys in our rehab team, but also being able to train alongside the likes of (Jack) Ziebell, (Robbie) Tarrant, Ben Brown, Mason Wood this pre-season … so he's learnt some really good habits.
"He's a great kid that wants to learn as well."
Tom McKenzie
"Each week, Tom's been feeling more comfortable in the environment and has been having a greater impact at training.
"You can just see some of his involvements in training and match simulation drills that he's starting to have more of an impact.
"I think his composure came with feeling more comfortable in the environment.
"Tom's an impressive young guy that wants to get better quickly like the rest of them, but unfortunately he's come down with a bit of a crook back at the moment, so we've had to pull him back a bit."
Tom Wilkinson
"Tom's very driven.
"The thing that stood out in him from day one has been his work-rate and his running ability.
"He's an enormous runner, and we saw that in their first week in the Yo-Yo and the time trial.
"Being a bit more of a mature body compared to the other guys, physically he's ready and the role that we're getting him to play really requires him to have those physical attributes to play.
"For him, it's understanding his role, and being able to execute that through the JLT to give himself the best chance to be looked at early in the season."
Red Og Murphy
"Red's slotted into the club really nicely, given he only arrived in the middle of January.
"Obviously his game knowledge and understanding is a way behind the others, but he's a really, really fast learner and you can already see some of the work that Rhyce Shaw and David Loader have been doing with him around his body position and game understanding.
"He just wants to learn, he picks it up really quickly and some positives and strengths he has going for him is that he's a really strong kick and he reads the game quite well, and he's got some really great speed.
"With those attributes he's been able to step in and not look too far out of place, but understanding that he's got a lot to learn.
"He's a fantastic character and it's been really enjoyable having him around the place so far."