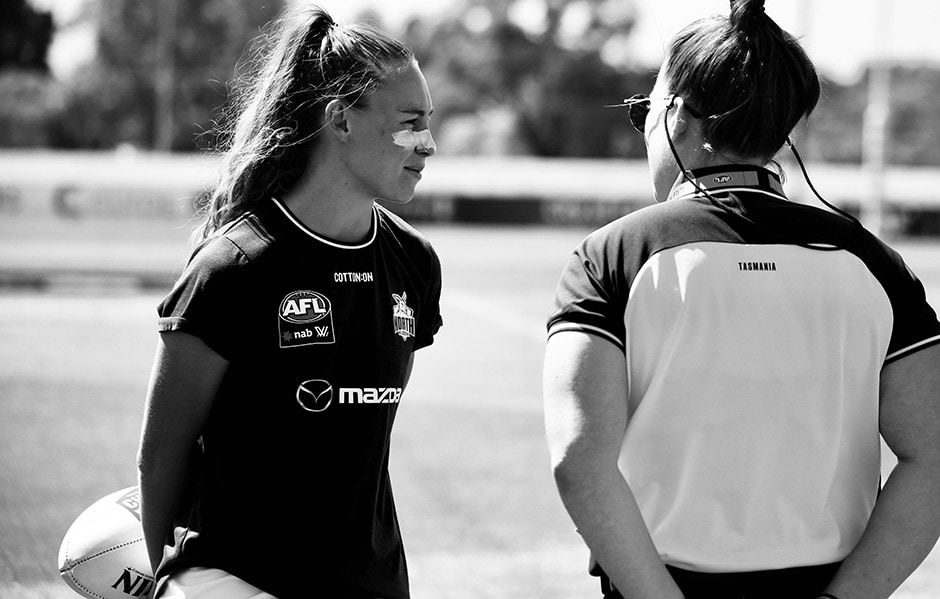 It's been a baptism by fire for Beth Lynch, who has quickly found her place in the heart of defence for the North Melbourne Tasmanian Kangaroos.
While she's only played two AFLW games, the 21-year-old is loving footy, and enjoying the opportunity to learn from some of her more experienced teammates.
"The maturity from the older players definitely helps with me sliding into the backline," Lynch told North Media.
"It's made it easier for me coming to the backline, knowing I have them for support.
"They're all amazing players, there's always a lot of talk in the backline, especially with our positions. It puts your heart at ease when you run out and you hear that encouragement.
"It helps me play the game better and having their guidance as I go."
Lynch made her debut in Round 4, but looked especially comfortable in the Roos' top-of-the-table clash against Adelaide on the weekend.
The likes of vice-captain Britt Gibson, Jess Duffin and Danielle Hardiman making her transition from VFLW to AFLW that little bit easier.
"At the moment I'm loving being down in the backline and I see myself getting better. The girls are so good and I feel so much guidance coming from them," Lynch said.
"It hasn't been a walk in the park, but it's been good to play in front of those crowds as I continue learning.
"There's still a lot of my game that I'd like to improve."
Gibson in particular has had an impact on her younger teammates.
"'Britt' has done an amazing job of showing how much the club values mean to her," she explained.
"These values mean so much to North supporters and to have that amongst you as you're training and playing, it helps bring them out during games.
"Knowing that you're 'Never Beaten' helps with the type of footy that we want to play and that it works."
After experiencing the highs and lows of footy in recent weeks, Lynch is determined to perform on the big stage when North faces Collingwood at Marvel Stadium on Saturday afternoon.
"It's exciting to run out and play the stadium that the boys will use in a few weeks," she said.
"To play in such a recognised football stadium excites me, I'm hoping that we get a lot of fans there. It'll be surreal experience that will put things into perspective for me.
"It's so important to be recognised, we've got such great support. It's easy to forget that we're playing at the highest level and are looked up to.
"We're now playing at the top level and we're expecting a good game. It will be more nerve racking, for sure, but it'll be worth it."