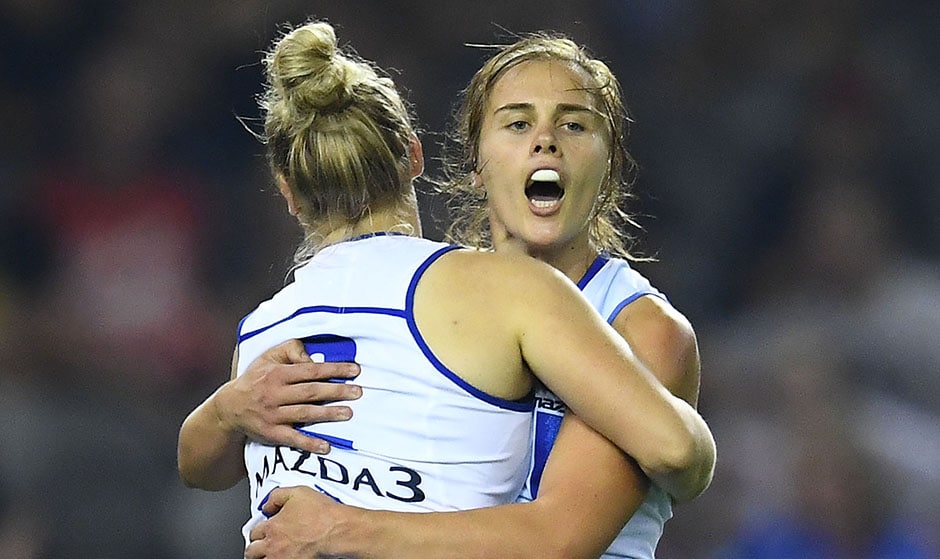 North Melbourne Tasmanian Kangaroos' stars Jasmine Garner and Jenna Bruton have been rewarded for their impressive performances in Saturday's win over Collingwood, awarded a game-high seven votes apiece from the coaches.
Garner starred in the forward-line, kicking two goals, while Bruton was a dominant force in the midfield, collecting 19 disposals.
The duo were two of five Roos to be given votes, with Jamie Stanton earning four, while Sophie Abbatangelo and Kate Gillespie-Jones were awarded two and one votes respectively.
North v Collingwood votes

7 - Jasmine Garner
7 - Jenna Bruton
5 - Brittany Bonnici (Coll)
4 - Jaimee Lambert (Coll)
4 - Jamie Stanton
2 - Sophie Abbatangelo
1 - Kate Gillespie-Jones
North leaderboard

21 - Emma Kearney, Jenna Bruton
19 - Jasmine Garner
18 - Jess Duffin
13 - Kate Gillespie-Jones
12 - Emma King
Overall leaderboard
43 - Erin Phillips
36 - Kiara Bowers
32 - Karen Paxman
30 - Ebony Marinoff
29 - Dana Hooker
The views in this article are those of the author and not necessarily those of the AFL or its clubs