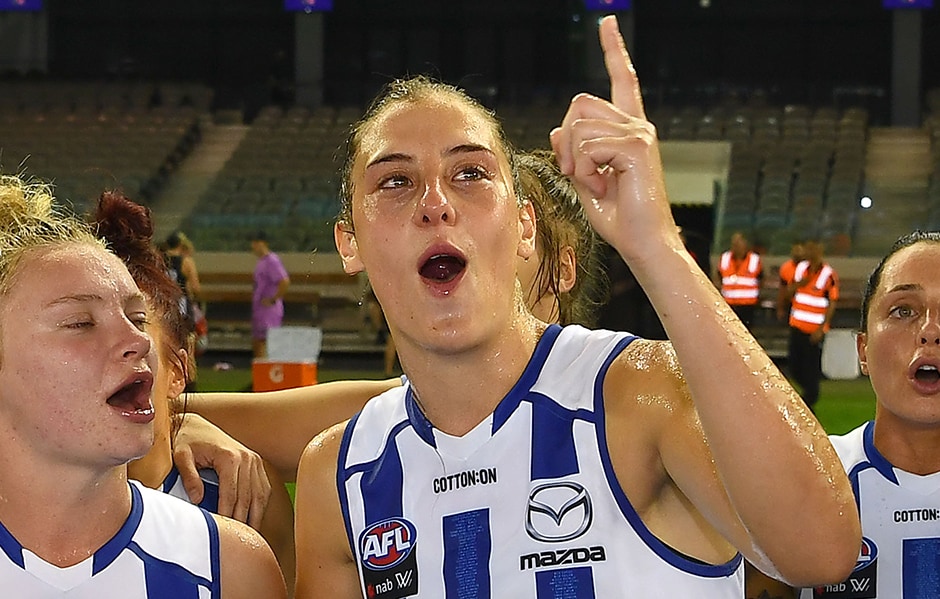 The enormity of playing her very first AFLW game isn't lost on Taylor Mesiti.
With the dust still settling on her debut for the North Melbourne Tasmanian Kangaroos, the 20-year-old recounts her first appearance at Marvel Stadium fondly.
"I had a ball, I loved every single moment of it," Mesiti told North Media.
"Marvel is huge, I don't think you could have a bigger stage to debut on. I just soaked up every single minute because it went so fast.
"It was a blur, by the end of the night, I wish it went longer. The amount of time that you have before the game surprised me. Maybe it was because I was so nervous."

Having experienced the intensity of football at a state level with Casey Demons in the VFLW, Mesiti admits the fast pace of the game caught her by surprise.
"There was a lot cleaner skills, the ball comes in a lot faster," she explained.
"From the midfield to the forwards, I found that even though the competition within the VFLW has definitely picked up, it still surprised me.
"I don't think you can get any better conditions than what we had. It felt like a huge stage, it was amazing. Looking back, it was still a good trial to go by, especially for my first game.
"It was awesome, Marvel is just an awesome facility and it was awesome to play on. I feel very fortunate to have had the opportunity to play there."
One of three Shinboners to make their debut in the past three weeks, alongside Daria Bannister and Beth Lynch, Mesiti revealed some advice passed over from Lynch.
"Right before we were about to run out, Beth told me just to soak it up," Mesiti said.
"It made me realise that it was a once-in-a-lifetime opportunity and that it goes quick. That made me take it all in and made sure that I enjoyed the moment.
"I never really saw myself debuting and playing AFLW like I have, I never really imagined it. I didn't want to put too many expectations on myself.
"I was just trusting the process and enjoying the journey. I'm happy to have played my role in the girls getting the win."
The hours leading up to a game can be particularly nerve-wracking, but for Mesiti, it was the spotlight that came with receiving her jumper that solidified the magnitude of her debut.
"Getting my jumper was a special moment and something that I'll always remember," she said.
"Receiving it from 'Kingy' (Emma King) especially, I was the sweatiest I've ever been. I'll always be Shinboner 27 for North. It was very special.

"It really hit me that I was involved in something bigger, a part of history."