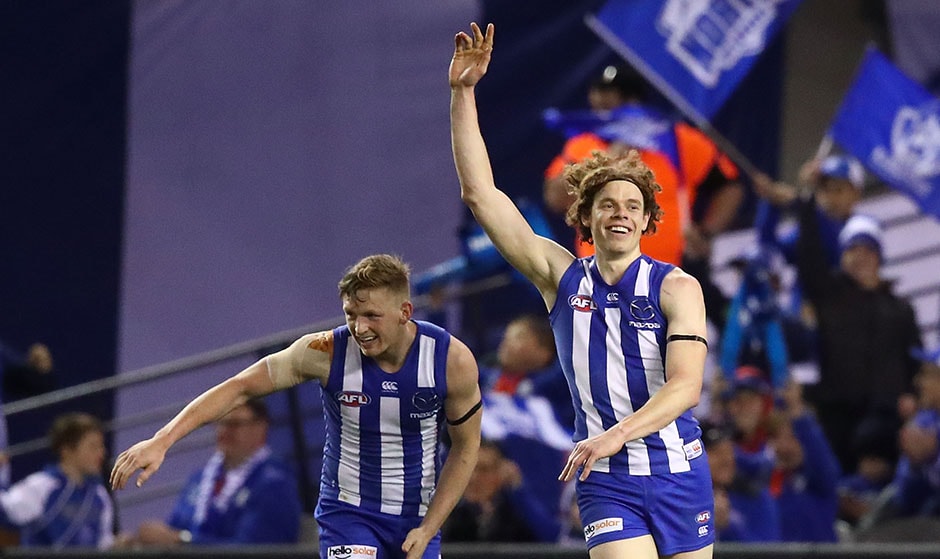 6 - Taylor Garner
Following an injury-plagued 2018, Garner's unfortunate run with injury continued into the pre-season; sidelined for the majority of the summer.
Taking part in the occasional match simulation, the dynamic forward's work loads were heavily managed.
Round 1 potential: Garner is set to play in the VFL practice match this weekend, and if he gets through unscathed, he could be a dark horse given his natural talent and ability to impact games.
7 - Jack Ziebell
The skipper had somewhat of a modified pre-season as he dealt with a minor calf complaint for much of the summer.
While it was a niggle the midfielder-cum-forward would have been able to play through if it occurred during the season, the club decided to remain cautious to ensure he was fit and raring to go for Round 1.
Round 1 potential: Ziebell played all four quarters in both JLT matches, making him a lock.
8 - Nathan Hrovat
After Hrovat managed just 12 games in 2018, he came into the pre-season ready to do whatever it takes to become a regular member ofthe forward-line.
The 24-year-old was overlooked for JLT1, but went back to the VFL and put in a near best on ground performance to earn selection for JLT2.
Round 1 potential: With the forward-line mix up in the air, Hrovat is a solid chance to fly to Perth.
18 - Shaun Atley
Atley has flown under the radar this pre-season, completing every session and taking part in all match simulations including the intra-club.
The 26-year-old played in both JLT matches, kicking two goals in the first, while playing a variety of roles in the second against Port.
Round 1 potential: An important role player in the forward-line, consider Atley a certainty.
20 - Nick Larkey
In the absence of Jarrad Waite, Larkey came into the pre-season hopeful of filling his big shoes.
He got through the pre-season relatively unscathed, playing in both JLT matches alongside Ben Brown, and even provided some relief for the ruckmen.
Round 1 potential: How North provides assistance to Brown remains to be seen. Will it go with a tall like Larkey or a smaller-sized forward? With this question still unanswered, the 20-year-old remains in the mix.
26 - Tarryn Thomas
A highly-touted recruit, Thomas made an immediate impact at Arden St, quickly displaying the skills which saw him drafted with pick 8.
Rewarded with appearances in both JLT matches, Thomas' elite skills, strong marking ability and unrelenting tackling pressure caught the eyes of many.
Round 1 potential: Thomas has done enough to earn a Round 1 debut, however given the competition for spots, North may elect to take more experienced group to Perth.
27 - Will Walker
After injuring his PCL in Round 22 last year, Will Walker has been sidelined all pre-season as his rehabilitation continues.
Round 1 potential: Unavailable
28 - Kayne Turner
Coming off a year that didn't live up to his personal expectations, Turner has worked hard to ensure he can take his game to the next level.
Completing a full pre-season, the 23-year-old put a heavy focus on his goalkicking, which was evident during both JLT matches.
Round 1 potential: Like Shaun Atley, Turner plays an important role inside North's forward 50 given the pressure he applies. This makes him a near-certain starter.
31 - Curtis Taylor
Drafted with pick 46 in last year's Draft, Taylor has made a positive first impression.
Despite failing to play in the JLT series, he was a stand-out in two recent VFL practice matches, and continues to make good progress.
Round 1 potential: The forward still has some size to put on, and with the numerous options available in the forward-line, he is unlikely for a Round 1 debut.
32 - Mason Wood
The club took a cautious approach with Wood this pre-season, doing everything it could to ensure he was fit and firing for the JLT series and Round 1.
The 25-year-old featured in both pre-season matches.
Round 1 potential: A proven match winner, Wood is fit and available, which makes him a strong chance to make the trip west.
35 - Declan Watson
In what came as a surprise to many, once a defender, Watson made the switch forward in a bid to add another string to his bow.
He looked relatively impressive in the match simulations and intra-clubs, but is still learning the ropes.
Round 1 potential: Watson is an unlikely Round 1 inclusion as he continues to develop in the VFL.
36 - Joel Crocker
Coming off an interrupted 2018 because of season-ending syndesmosis injury, Crocker's pre-season got off to a delayed start.
The draftee has returned to the main group in recent weeks, and is nearing a return to competitive football; possibly this weekend in the VFL.
Round 1 potential: Crocker is a long shot for the March 24 clash.
41 - Tom Wilkinson
Selected as a small forward in last year's Rookie Draft, Wilkinson caught the eyes of many early by winning the Yo-Yo test and earning a podium finish in the 2km time trial.
The 23-year-old has played in the opening two VFL practice matches, and continues to look towards a senior call-up.
Round 1 potential: Unlikely to be selected.
44 - Cameron Zurhaar
Coming off a season-ending broken ankle, Zurhaar had a delayed start to the pre-season, but has been a feature of most sessions in 2019.
The solidly built forward played in JLT1 and 2, as he looks to develop his craft and earn a regular spot in the side.
Round 1 potential: With much competition for spots in the forward six, Zurhaar is in the frame.
50 - Ben Brown
Brown's pre-season got off to a slow start after undergoing arthroscopic surgery on his hip at the end of the 2018 season.
Like with all injured players, the club was cautious with Brown, which has allowed him to be at full fitness just over a week out from Round 1.
Round 1 potential: When it comes to Round 1 locks, they don't get any more certain than Brown.
The views in this article are those of the author and not necessarily those of the AFL or its clubs