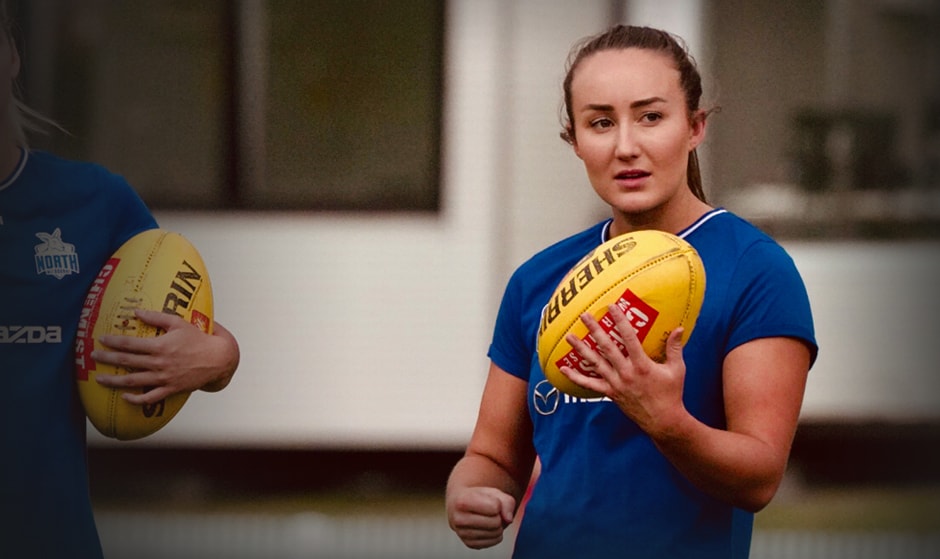 Nicole Bresnehan was never going to let injury derail her ambitions to play more footy in 2019.
The tenacious tackler has been sidelined for three games, missing hard-fought encounters in recent weeks against Melbourne, Adelaide and Collingwood.
Having successfully rehabbed a wrist complaint, the Clarence product is looking forward to making an impact in her return for the North Melbourne Tasmania Kangaroos on Saturday.
"It was frustrating to be on the couch watching," Bresnehan told North Media.
"I think the girls have done really well. It's great that girls can come in and perform on their debut. It can be difficult sometimes when you've got all the nerves coming in.
"We all want the best for each other. It might be difficult to get up and about, but everyone knows their role. We all work so hard for opportunities and we want to see each other perform.
"At the end of the day, we want the team to do well, including each other too.
"Even when watching on the sidelines like I have, there's always so much to learn, especially with the last few weeks. We've been fine-tuning our game since and making sure we get things right."
The Roos travel to Fremantle Oval, facing the Dockers in a must-win clash, which will prove vital for the hopes of a finals berth for the two Conference A sides.
"We've just got to do our job, work hard and win," she said.
"It doesn't change the job that we've got to do against Fremantle. At the end of the day, we're always going to want to win.
"Getting a good result is going to put us in the spot that we want anyway."
As a proud Tasmanian with long ties to North, Bresnehan is understandably proud to see her peers from the southernmost state perform when called on.
This includes the most recent performance of Daria Bannister, who retained her place after playing her role in last week's win over Collingwood at Marvel Stadium.
"I think it's really awesome that Daria got an opportunity," she explained.
"She put in a lot of work over pre-season and you can see that with how she's training. Since coming back, she's done everything right with her injury and I was really happy for her.
"It's only fair that she got her chance, as the girls have all done well."
While playing on the road is an expected part of the AFLW season, Bresnehan believes the existing dynamic of the two state playing group makes travel that little bit easier.
"I've travelled a bit, so it isn't too bad," she added.
"Within the group, everyone feels near or at their best, which brings a lot of confidence within the group. I think if we do everything right and stick to our plan, we'll get it done.
"A win is absolutely vital for us and all the girls will be putting in their all."