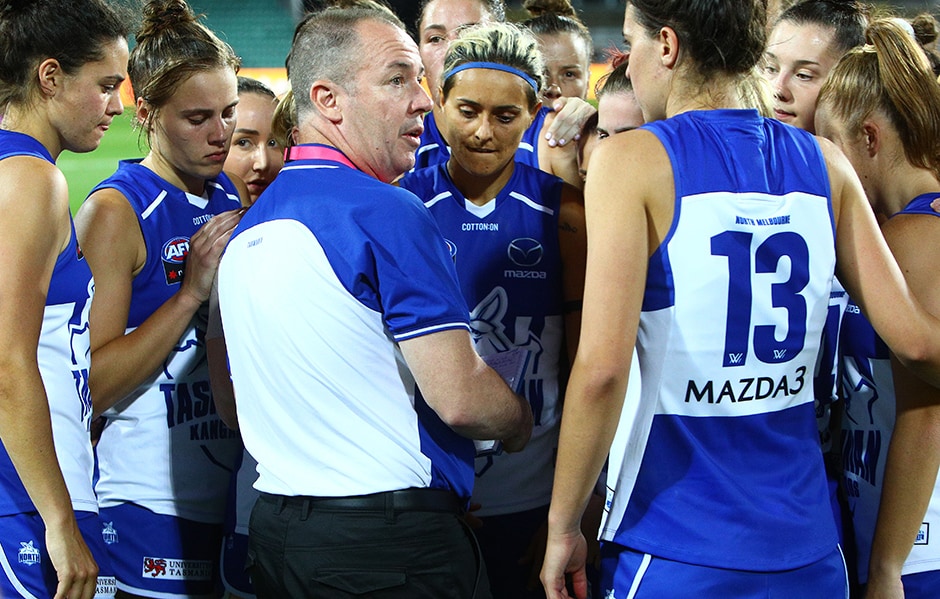 AFLW coach Scott Gowans' focus is firmly on getting a fast start against Fremantle in enemy territory on Saturday.
The North Melbourne Tasmanian Kangaroos will travel to Fremantle Oval for their must-win clash, with finals well and truly on the line.
But for Gowans' team, setting the tone early against the Dockers is front of mind.
"All we are focusing on is that first quarter and we'll reset after that, we won't be looking any further than that,'' he told The Advocate.
"Last week (in the win over Collingwood) we had a huge focus on handball receives and we had 60 for the game - that was a season high for us.
"We want to beat that again, so you are almost trying to have that philosophy of whatever happens inside the contest, hopefully we win it, but the concentration for us will be what happens on the outside run from behind.
"Although Fremantle will get the ball a number of times because they are a good side and kick it their way and get their ball movement going, what that does do is open up opportunities going the other way when we turn it over.
"The key stat will be time in forward half, as if we have the ball in possession more than they do, and our time in our forward half is pretty good, we are a pretty efficient side, so that will put us in pretty good stead.
"All our training is set up around the ball movement out of the stoppages, but we won't mention the situation of the conferences or what might happen, it is all about making sure we get off to a good start."
Nicole Bresnehan returns from a wrist injury this week, while Gowans said fellow Tasmanians Emma Humphries and Maddison Smith were waiting in the wings for an opportunity.