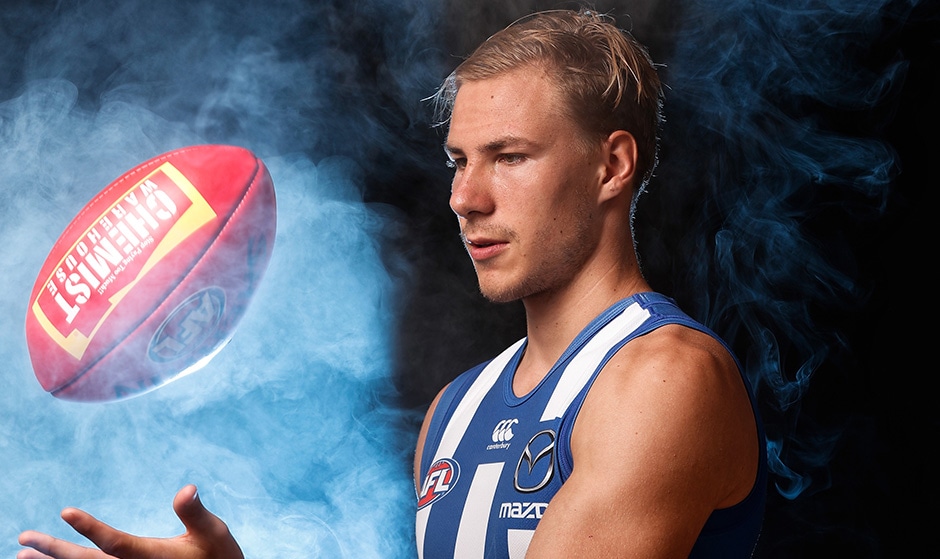 Senior opportunities have been at a premium for Ben McKay in his first three seasons at North Melbourne, but 2019 could well be his chance to shine.
With the likes of Scott Thompson, Robbie Tarrant and Majak Daw on the sidelines, the 21-year-old was a key feature in defence during the JLT Series, putting himself right in the mix for Round 1.
McKay says he enjoyed the experience of playing against the opposition's best forwards during the pre-season, and learnt plenty.
While selection is still very much up in the air, he's excited to push his case.
"I've used the two matches to learn, and it's been good to have those outings," he told North Media.
"Hopefully I can come into Round 1 with a bit more game experience under my belt.
"You feel a bit better knowing that you've had two weeks on quality opponents, so it'll be nothing overly new, which will hold me in good stead I reckon."
Being the lone key defender in opening JLT Series clash against the Saints, and one of just two the following week against Port, McKay lined up on some quality players.
Most would shirk at the opportunity to play on the likes of Paddy Ryder, Justin Westhoff, Josh Bruce and Paddy McCartin, but it's something the number 23 relishes.
"It's nice knowing that at the AFL level, you're always going to go up against a good opponent," McKay said.
"That's always a good challenge and nothing's ever easy, so that's something that I'll need to get used to.
"You don't want to go into games thinking it's going to be easy, because AFL isn't."
While McKay is the first to admit his performances weren't perfect, he can take a lot of positives out of the pre-season.
He credits newly appointed backline coach Rhyce Shaw for giving him the confidence to play to his full potential.
"One good thing about Shawy is that he's always positive about things," McKay said.
"One thing I've learnt is that you're never going to have the perfect game, so you're always going to have bad moments, but you're going to have some good ones as well.
"It's just about knocking those bad moments on the head at training and working hard on those areas of improvement. I suppose how much you care about it depends on how much work you put into it.
"I'm certainly not one of those people to sweep those bads things under the rug, I'm going to do something about it."
And the 2015 first round draft pick is fortunate enough to be able to test himself against one of the game's best forwards every day at training, Ben Brown.
"Having people like Browny to challenge myself on is the perfect preparation for the weekend," McKay added.
"The more you can do at training and the higher intensity you can do it at, the better."
The views in this article are those of the author and not necessarily those of the AFL or its clubs