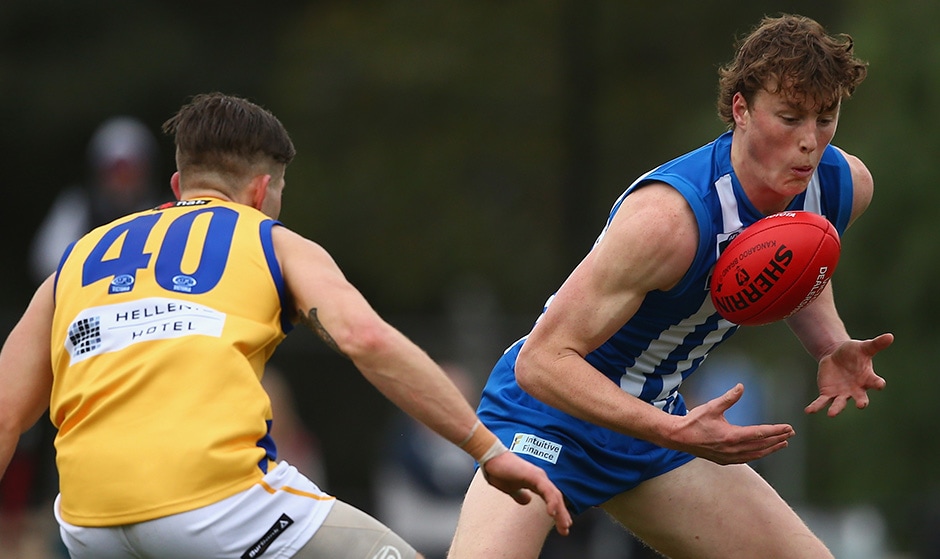 It's been 629 days since Nick Larkey played his most recent AFL match, but the 20-year-old is ready to prove himself at senior level.
Larkey is one of three additions to North's side ahead of Friday night's clash with Port Adelaide.
"I'm rapt to be back in the team, I can't wait," Larkey told North Media.
"I've waited a long time for it, but now it's time to take my opportunity and play my role for the team and hopefully go well on Friday night."
While his first two AFL appearances weren't quite what he would have hoped for, Larkey went back to VFL level, worked on his craft, and has earned another chance.
In 2018 the tall forward won the 'Frosty' Miller Medal for the league's leading goal-kicker, but it wasn't just goals that North's coacheswere wanting to see from him.
"There was lots to work on," Larkey admitted.
"My bodywork in the contest, my workrate up and down the ground, my defensive pressure ... so a bit of everything.
"In particular my strength in the contest and getting to as many contests as I can. If I can bring that on Friday night, then I would have played my role."
For most, having to wait in the wings for more than a year would be difficult, but Larkey was patient.
"It (the messages from the coaches) was pretty much just bide your time," he said.
"Last year we did pretty well in the seniors, so it was hard to crack in (to that team).
"There were a few chances early this year that I thought I might have been a sniff to come in, but they wanted to see me get to as many contests as I could.
"I tried to work on that in the early stages of the VFL, so it's good to get rewarded."
The views in this article are those of the author and not necessarily those of the AFL or its clubs