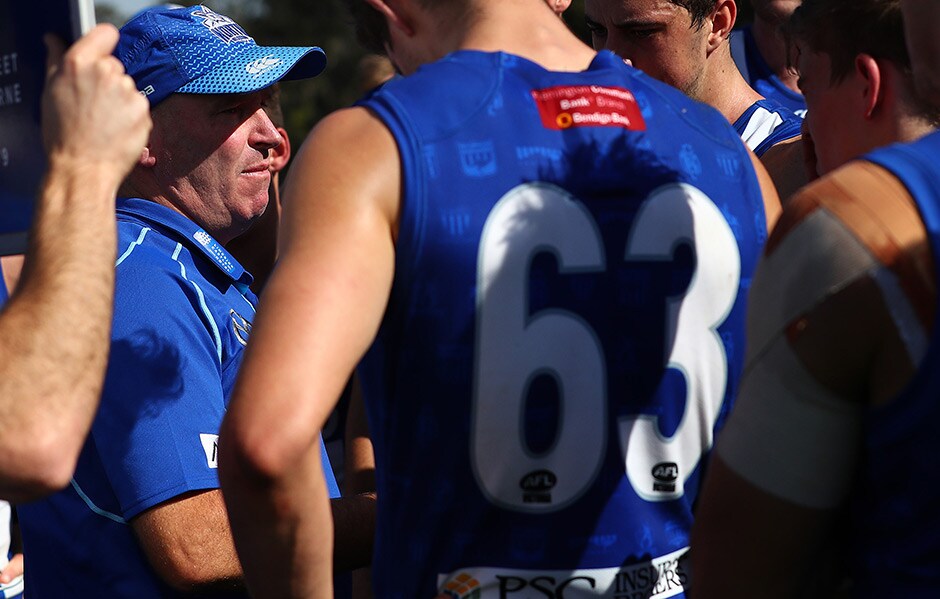 Match result
Port Melbourne 19.10 124 def. North Melbourne 9.15 69
Player stats
AFL-listed
Bailey Scott (18 disposals), Curtis Taylor (13 disposals, 2 goals), Joel Crocker (13 disposals), Jy Simpkin (33 disposals, 1 goal), Kyron Hayden (17 disposals), Paul Ahern (32 disposals), Red Og Murphy (7 disposals), Taylor Garner (10 disposals), Tom Campbell (26 disposals, 25 hit-outs), Tristan Xerri (11 disposals, 2 goals)
VFL-listed
Alex Morgan (13 disposals), Brendan Whitecross (19 disposals), Chris Jansen (19 disposals), Dan Robinson (20 disposals), Liam McVeigh (5 disposals), Louis Cunningham (14 disposals), Matt Northe (14 disposals), Michael Tang (9 disposals), Nash Holmes (25 disposals), Rhys Mutch (11 disposals), Ryan Morrison 10 disposals), Sam Parsons (8 disposals), Ty Leonardis (11 disposals)
Recap
North Melbourne's VFL side battled hard for three quarters, but ultimately fell short against Port Melbourne on Saturday afternoon.
Facing the 2017 VFL Premiers at home, the Roos pushed their experienced counterparts, matching the Borough's efforts at each exchange.
With fleet-footed duo Jy Simpkin and Paul Ahern proving dominant in the centre, the likes of Curtis Taylor and Bailey Scott thrived in surrounding positions.
On a day that proved to be a platform for the emerging Roos, it was experience that sealed the result for the visitors, who finished stronger in the final term.
The goal-scoring burden was carried admirably by Tristan Xerri and Taylor in the absence of Nick Larkey, finishing with two apiece.
Alternating ruck Tom Campbell offered an aerial presence, complementing his 25 hit-outs.
VFL-listed trio Chris Jansen, Dan Robinson and Matt Northe also hit the scoreboard, highlighting their versatility in deeper roles.
What the coach said
"We've got a very young group, but we're building," Brendan Whitecross (VFL captain and development coach) told North Media.
"It might be frustrating right now, but we're going to get there. As tough as it is, we've got to keep our heads up and keep moving forward.
"It's just one of those things that takes time to build. You've got to build that toughness over time and the resilience that comes with being challenged.
"Facing that adversity, being able to step up and being mentally strong. I think our players are getting there, it's not far off.
"We just need to keep believing, things will turn for us."
Best of AFL
Jy Simpkin
A week in the state competition proved to be exactly what the 21-year-old needed.
Working in tandem with fellow ball magnet Paul Ahern, Simpkin provided drive through the centre of the ground, ending with 33 possessions.
Jy Simpkin was among the best for the Roos at Avalon Airport Oval, getting plenty of the footy on an otherwise tough day.#BeAShinboner

— North Melbourne VFL (@NorthVFL) 27 April 2019
Best of VFL
Nash Holmes
The strongly-built midfielder was given the freedom to explore roles outside of the traditional midfield position that he held in 2018.
Granted the opportunity to push forward, Holmes was rewarded for his grit and determination, ending his shift with 25 disposals, as well as a goal.