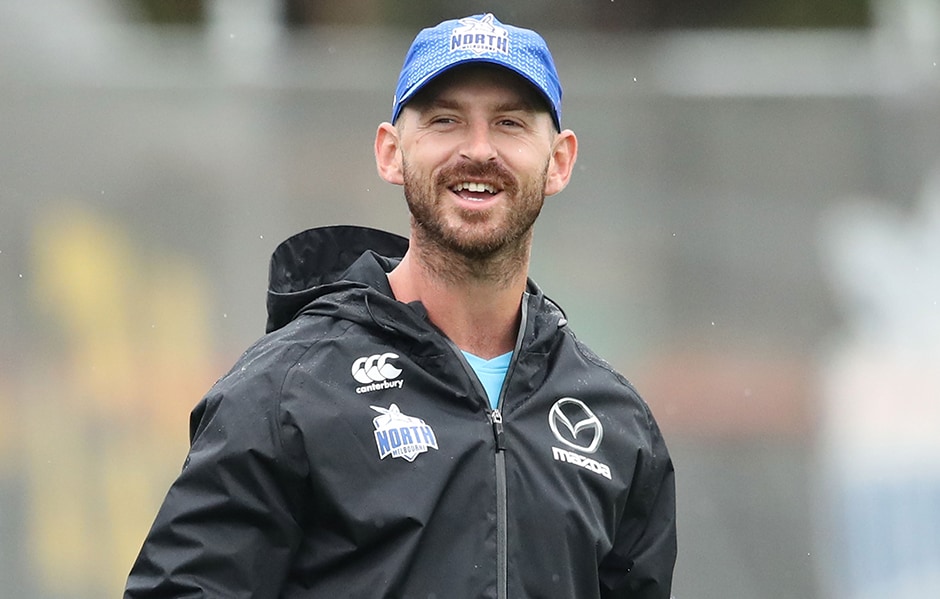 VFL captain and development coach Brendan Whitecross says North Melbourne must focus on the positives, despite a tough start to its 2019 campaign.
The former Hawk believes development is key, with the Roos' youngsters sure to enjoy success, when they can find consistency.

"We're really good in patches and our good is very good," Whitecross told North Media.
"When we're off, we've just got to get it to the point where it's manageable. At the moment when we're that little bit off, teams are getting a run on us.
"As we've shown several times already, we can be really good, but we're sometimes unable to steady the flow. We've taken some real positives out of our performances.

"We've got a very young group, but we're building. We need to keep our heads up and keep moving forward.
"As much as we want to win games, it's about the development as well. Seeing the boys perform well when given the chance, which is really encouraging. "
Whitecross has seen rapid improvement from the likes of AFL-listed players Curtis Taylor and Joel Crocker, who have shown promise in recent weeks.
"Both Curtis and 'Crock' in particular are pretty raw in terms of senior footy," he said.
"(They're) coming out of an under-18 competition, where they can play to their strengths really often. Now they're learning team defence and structure. They're getting the hang of it.
"It's about building confidence for those guys. I don't think they're far off playing consistent footy and putting their hand up for (AFL) selection."

Whitecross said the elevation of key-forward Nick Larkey, who spent all of the 2018 season in the VFL, is an example of what can be achieved with patience.
"We've seen with 'Larks', who battled away at VFL level, he got his chance," he explained.
"It's about showing guys like Curtis (Taylor), Bailey (Scott) and 'Crock' (Joel Crocker), that if you play well at this level, you're going to be rewarded.
"It's about working on the things you need to work on and asserting yourself.
"When this happens, our AFL guys will realise there's blokes knocking on the door and it drives the standard around the club."