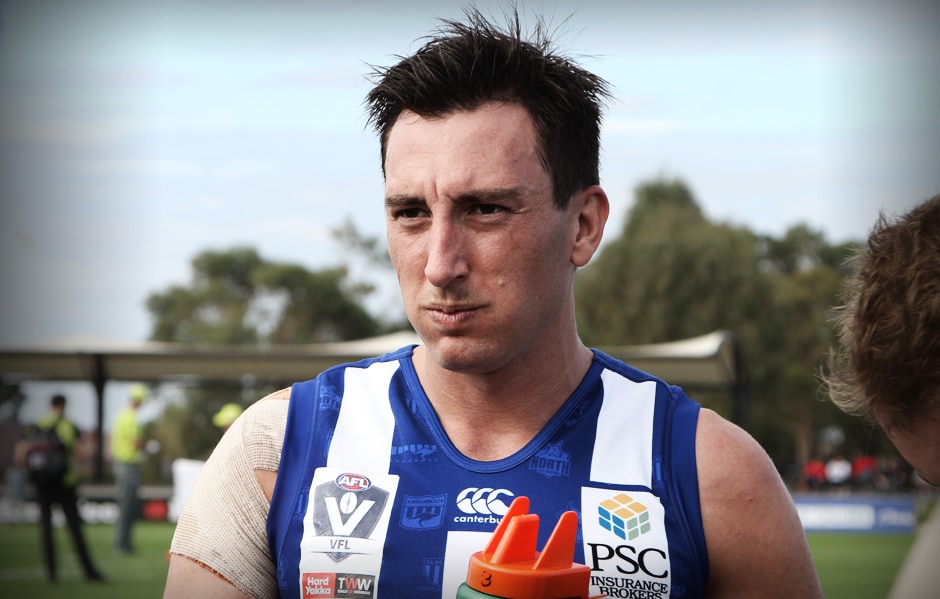 North Melbourne's VFL side will take on the Northern Blues at IKON Park on Sunday morning.
Originally slated as an afternoon game at the Blues' home in Preston, the change of time and venue allows the Roos to replicate the conditions of an earlier practice match in March.
The Blues are off to an impressive start to the season proper, winning two of their three fixtures so far, but are coming off a loss to a Werribee.
After a competitive three quarter showing against 2017 VFL Premiers Port Melbourne last weekend, North will look to mirror these efforts over the course of four quarters.
North Melbourne v Northern Blues
Saturday, May 5 - 10.30am
IKON Park
Squads
North Melbourne
B: 43. A. Hall, 19. S. Wright, 45. R. Murphy
HB: 36. J. Crocker, 24. S. Durdin, 2. M. Williams
C: 15. P. Ahern, 9. L. Davies – Uniacke, 44. C. Zurhaar
HF: 6. T. Garner, 21. D. Tyson, 12. J. Simpkin
F: 8. N. Hrovat, 42. T. Campbell, 31. C. Taylor
R: 38. T. Xerri, 37. K. Hayden, 30. B. Scott
Int: 62. F. Cameron, 59. N. Holmes, 61. C. Jansen, 53. T. Leonardis, 54. J. McIvor-Clark, 66. L. McVeigh,
73. L. Mirams, 57. A. Morgan, 79. R. Morrison, 71. M. Northe, 72. D. Robinson, 56. B. Whitecross
23P: 69. R. Mutch
Northern Blues
B: 60. J. Hill, 45. H. Goddard, 19. A. Schumacher
HB: 13. L. Stocker, 37. B. Silvagni, 31. T. Williamson
C: 75. F. Anderson, 7. M. Kennedy, 55. J. O'Rourke
HF: 53. J. Palmer, 27. M. Lobbe, 43. W. Setterfield
F: 32. A. Fasolo, 36. P. Kerr, 29. C. Polson
R: 34. A. Phillips, 50. T. Wilson, 69. S. Fisher
Int: 77. M. Blakey, 46. M. Cottrell, 21. J. Garlett, 67. B. Hurley, 80. K. Keppel, 16. D. Lang, 64. J. Lynch, 62. C. McCabe, 44. M. Owies, 66. G. Strachan, 54. J. Velissaris
23P: 73. O. White
The key players
North Melbourne
Dom Tyson
The hard-working midfielder will return to the fold after he was a late withdrawal from last weekend's clash with the Borough due to calf soreness.
Tyson performed admirably in his last outing at state level, acquiring a workmanlike 22 disposals while being tagged at Casey Fields.
Sam Wright
The veteran will look to strengthen his case for an immediate return to senior level with a solid showing.
Wright has the ability to play in multiple roles across North's defensive six, and will add some much needed drive and experience to a youthful Roos' backline.
Carlton
Matt Kennedy
The former Giant possesses imposing ball-winning skills, regularly featuring among the best performed Blues on game day.
Kennedy's latest offering, which included 24 possessions and seven tackles against Werribee, highlights just how important the hard-working midfielder is to the Blues' structure.

Sam Fisher
After a year with the Blues, the 21-year-old continues to make an impression in several roles, figuring heavily in many attacking plays.
The former Sydney rookie was a shining light last weekend, tallying 20 touches to complement his nine tackles and a single goal.

What the coaches say
North Melbourne - Brendan Whitecross (VFL captain and development coach)
"It might be frustrating right now, but we're going to get there. As tough as it is, we've got to keep our heads up and keep moving forward.
"It's just one of those things that takes time to build. You've got to build that toughness over time and the resilience that comes with being challenged.
"Facing that adversity, being able to step up and being mentally strong. I think our players are getting there, it's not far off."
Northern Blues - Josh Fraser
"Anyone who watched us in the back half of last season would have seen a pretty competitive team at the contest and a side that played with some genuine spirit for each other.
"We also only scored over 100 points once last year, so we've worked hard on our fundamentals. I think we can assemble a pretty good midfield too, so we want to make sure our stoppage craft is a focus." - VFL website

Fans are invited to attend North's VFL game against the Northern Blues, with the first bounce at 10.30am.