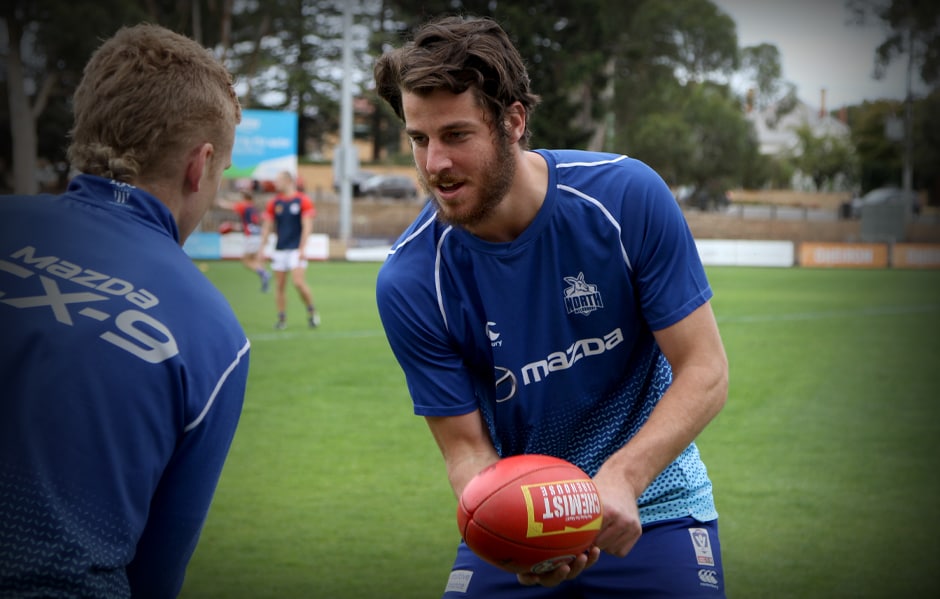 For Tristan Xerri, time spent wishing was time wasted.
Sidelined with a bout of osteitis pubis, the developing tall was proactive with his time, developing his craft behind closed doors in anticipation of a return.
With two games now under his belt for North Melbourne's VFL side, the ruck prospect knows there is still plenty of hard work ahead of him.
"My first game back, it was tough," Xerri told North Media.
"Getting used to game day running and even just trying to find the right position on the ground ... I did a lot of work during pre-season, but game day is a different kind of running.
"I know that I just need to adapt to it, which I did a lot better in my second game, where I felt I was just trying to find my feet."
Working in tandem with veteran Tom Campbell, the 20-year-old can already see the benefits of learning from such an experienced teammate.
"Tom has been great since coming into the team," Xerri explained.
"He's very verbal, just like 'Whitey' (Brendan Whitecross) and his role. He does a good job of verbalising what he wants on and off the field. It's been great working with him.
"It makes it really easy having someone that can communicate really well, and knows when they need a spell, or when I need one. It's working out really well.
"He can be dangerous up forward, which we've seen in recent weeks."
A boyhood North supporter, Xerri has thrived since arriving at Arden Street.
Now in his second year at the club, he's using his experience to mentor the latest crop of draftees.
"I'm always open to providing that support," Xerri said.
"Coming out of my first year, I know exactly how they feel. I was a lot more shy back then, but the because of the older boys, I'm a lot better.
"We've spent a lot of time together during the off-season, being a closer knit group, doing things off the field. We're a really close group.
"Wherever I can, I just want to make it easier for the guys transitioning and coming through."
Having impressed with two goals in his most recent outing, Xerri plans to continue on with his development in the state competition.
"Given that I play both ruck and forward, I feel like I'm still undersized," he said.
"For me, my strength in the contest is important, I want to make sure that I'm always making a contest, bringing the ball down, and to the right spots.
"There's aspects to my game like my follow-ups and tackles that I'm happy with. But there's always room for improvement, which I'm looking forward to."