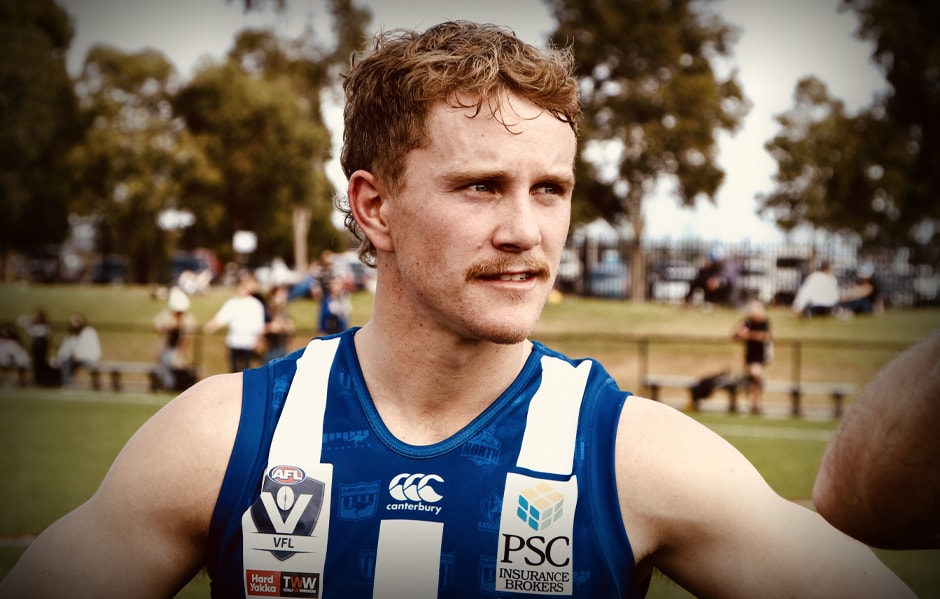 Nick Rippon isn't letting an injury interrupted campaign derail his 2019 season.

The midfielder suffered an ankle injury in Round 2 against Casey, forcing him to sit on the sidelines for the longest stint of his career.

"The injury was sustained against Casey, almost four weeks this weekend," he told North Media.

"I was picking up a ground ball and a player's body fell across my ankle. My foot got caught between him and the ground, I pretty much felt it straight away."

Having won the club's inaugural VFL Best and Fairest award, the John Law Medal, the injury was a tough pill to swallow for Rippon.

"It's never fun watching your team play," he explained.
"For me personally, I've never had an injury as long-term as this. I've been pretty lucky in my career to not miss more than five consecutive games.

"We've been struggling the last few weeks, it's frustrating when you know that you can go out there and help the team at different stages of the game.
"This is a new experience for me, it's difficult, for sure. I'm stuck on 99 (VFL) games, so I've definitely got an incentive to come back."

Typical to his hard-working approach to footy, Rippon is working hard on his rehabilitation in anticipation of a return this year.
But it's a patient process.
"It's been a slow rehabilitation, I was put in a moon boot right after the game," he said.

"I did two weeks with the boot on, it's been a slow process building strength back up in my ankle.

"The physios have given me a program to follow on with, and it's a slow process from there. It's coming along well, hopefully I'm back running this weekend."

Rippon keen to get back and record a significant milestone, 100 games.

"It's a huge achievement personally for myself," he added.

"The VFL is a tough league to stay in for a long period of time, not many players do that.

"It's a big thing for me. Being focussed and mentally strong while playing in the VFL. It's a tough league, especially when you're working a 40 hour week as a plumber.

"There's time management, and personal management as well. It's all really important.
"Most players move on, especially if they're not drafted, or go onto other ventures. It's a humbling experience to be part of that select group."