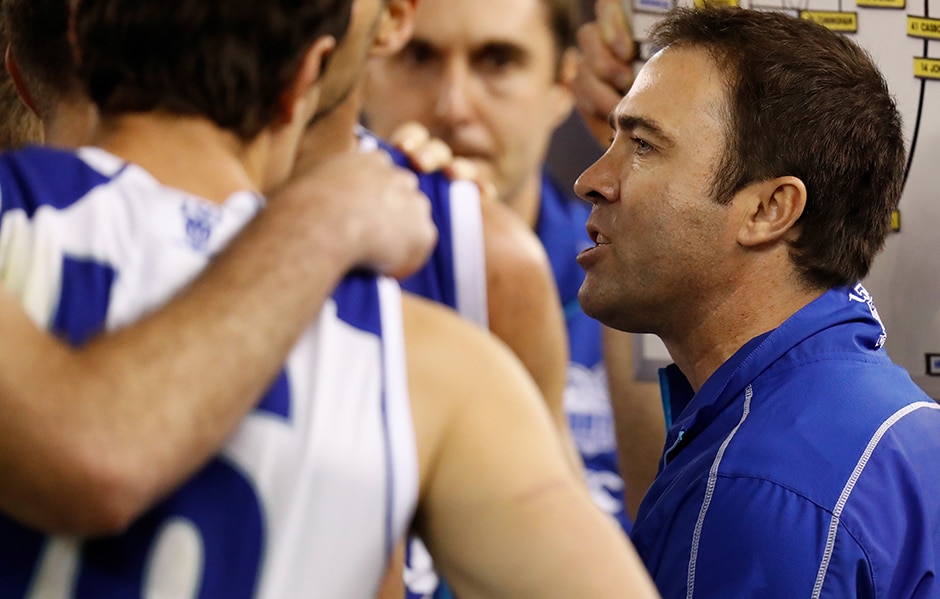 North Melbourne expects Scott Thompson and Marley Williams to return for next Saturday night's clash against Sydney as the club tries to cope with a shortage of available defenders.
Thompson was withdrawn from the team on Saturday with a groin injury, while Williams was not in the right headspace to play after attending a family funeral in Western Australia this weekend.
Coach Brad Scott said the pair would be welcome inclusions against the Swans after the Roos had to shift around their defensive personnel in a 24-point loss to the Cats on Sunday.
"The expectation was that he (Williams) would be available for this week too but you never know how those family situations are going to unfold and it was a very easy decision for us to leave him out today," Scott said.
"He (Thompson) was close, I thought it might have been unlikely. But for Sunday games you need to name your squads on Thursday and with experienced players like that I always like to give them right up until the last minute.
"But he just wasn't quite right. He was so close that he'd be right for next week."
Scott said a dearth of defenders saw Kayne Turner having to be used as a backman in a role on Cats champion Gary Ablett.
Ed Vickers-Willis (knee), Luke McDonald (knee), Majak Daw (pelvis), Ben McKay (pneumonia) were all unavailable for the game against the Cats.
"We're running out of defenders pretty quickly," Scott said.
"We're pushing forwards back mainly to plug gaps but it is a great learning opportunity for Kayne. He's tenacious and he's competitive and I thought he did a pretty good job back there on a superstar player who has great polish."
Despite an encouraging effort against the Cats, Scott said the club could not be satisfied with another honourable loss.
"We're pleased with the way we went about it today but we just can't be satisfied where we're at. Our challenge is to focus on and consolidate on the areas that are improving for us and really playing that style of footy against any side regardless of where they sit on the ladder," Scott said.
"If we'd been able to play that style of footy earlier in the year I think we'd be in a different position. But the reality is at the end of round eight we are where we are.
"So the exciting thing is the competition is tight. We've just got to keep persisting and try to replicate that brand of football as consistently as possible."