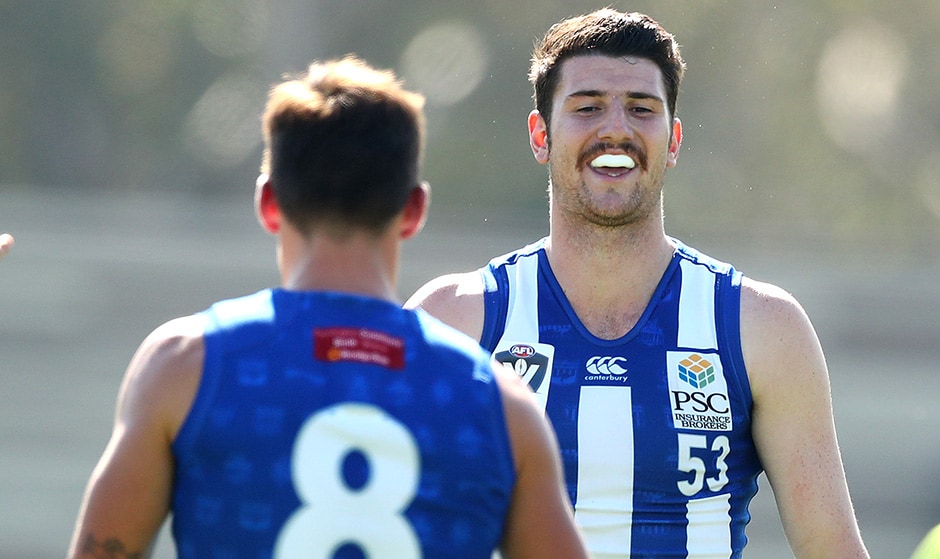 Development coach Gavin Brown breaks-down the top performers in Sunday's 20-point victory over Geelong at Avalon Airport Oval; North's first win of the season.
Nathan Hrovat | 19 disposals | 4 marks | 6 goals
"He was outstanding.
"He was live-wire in the air and on the ground, he plucked a bit of a screamer at one stage; he's actually a pretty good mark.
"Goals and forward pressure are important for him, so it doesn't hurt him when he kicks 6 goals, and had 9 shots.
"He was really lively and looked really dangerous."
Declan Watson | 14 disposals | 6 marks | 3 tackles
"Declan was fantastic all day.
"We've been playing him as a forward a lot this year, then he had that injury, and went down back back for the first time this season on the weekend and his intercept spoiling, one-on-one defending and ball-use was outstanding.
"It was one of the best games I've seen him play."
Tom Campbell | 24 disposals | 6 marks | 31 hit-outs
"He really got us going, particularly in the second quarter.
"Some of his follow-up stuff, tackling, marking and drive in his legs, when he gets the ball, was strong. It was a really strong game from a ruckman."
Aaron Hall | 33 disposals | 8 tackles | 2 goals
"He got a lot of the footy and kicked a couple of beautiful goals too.
"He was a great link-up player, he provided us with plenty of run and carry playing as an inside-mid."
Tristan Xerri | 20 disposals | 9 marks | 3 goals
"We had a lot of good players, and he was right up there.
"He was probably in our top three or four players because of his powerful marking.
"I thought this week it was really noticeable that he started to time his marks.
"In the previous few weeks he's nearly grabbed them, and we all know what a great contested mark he is, so his timing was out for a bit, but it just clicked on the weekend.
"I thought his aerial work was really fantastic.
"Kicking goals, marking the footy, competing in the ruck and following up and he played with great aggression."
Joel Crocker | 25 disposals | 7 marks | 3 tackles
"Crock was solid. He always seems to get plenty of the footy, so he's pretty smart in terms of where he runs to get involved.
"He links-up really well, is generally a pretty good ball user, and he's going well."
Dan Robinson (VFL) | 26 disposals | 8 marks | 2 goals
"I thought Robbo had a real impact on the game, playing off a wing.
"We've been playing him inside, but with the way our AFL mids have been going, he's been playing a bit outside.
Ryan Morrison (VFL) | 15 disposals | 3 marks
"I thought he was terrific in his one-on-one contests. His spoiling was great and he used the ball really well, he's a true competitor.
"I think he could be a real find for the VFL side."
Paul Ahern | 29 disposals | 4 marks | 2 tackles
Luke Davies-Uniacke | 23 disposals | 3 marks | 5 tackles
Kyron Hayden | 19 disposals | 3 marks | 7 tackles
Chris Jansen (VFL) | 17 disposals | 5 marks | 7 tackles
Quinten Montanaro (VFL) | 16 disposals | 6 marks | 1 tackle
Brendan Whitecross (VFL) | 15 disposals | 5 marks | 1 goal
Nash Holmes (VFL) | 14 disposals | 5 tackles | 2 goals
Michael Tang (VFL) | 13 disposals | 5 marks | 1 goal
Matthew Northe (VFL) | 11 disposals | 4 marks | 3 tackles
Tyrone Leonardis (VFL) | 10 disposals | 2 marks | 1 tackle
Jordan McIvor-Clark (VFL) | 10 disposals | 2 marks
Fraser Cameron (VFL) | 7 disposals | 2 marks | 3 tackles
Tom Hotchin (VFL) | 7 disposals | 5 marks | 1 tackle
Cameron Hodges (VFL) | 5 disposals | 2 marks
Lachlan Mirams (VFL) | 4 disposals | 1 mark
The views in this article are those of the author and not necessarily those of the AFL or its clubs