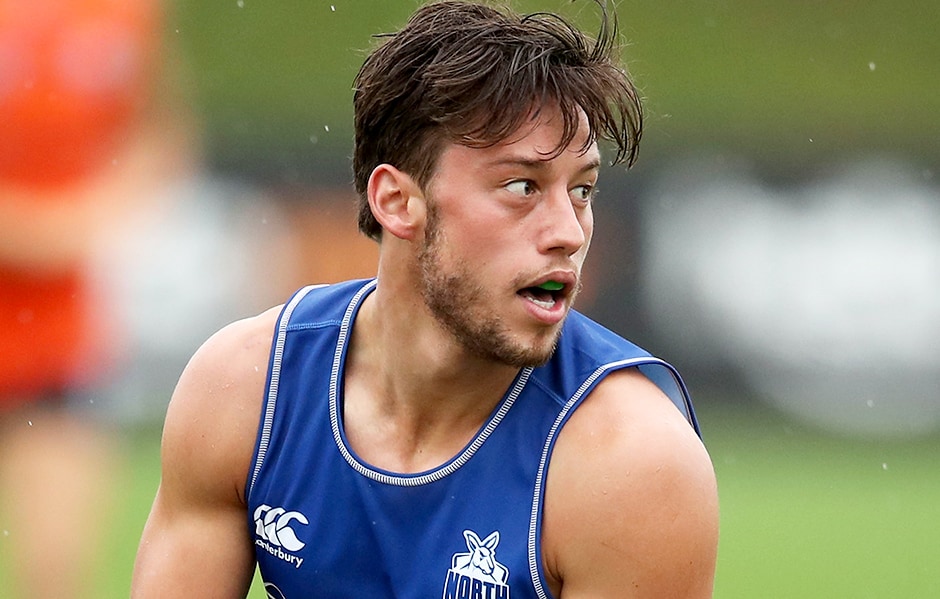 He's been in fine touch in the VFL, but Nathan Hrovat knows another chance at AFL level rests solely on a continued run of strong form.
Coming off a six-goal haul, the Roos' number eight will have to wait at least another week to push his case, with a VFL bye coming up.
"Hopefully the opportunity is going to come, but all I can focus on and worry about is my own individual performance," the small-forward told North Media.
"It's also important for me to do what I can to help the younger guys, particularly in the VFL, to develop.
"I'm definitely not "old" old, but I do feel like a senior figure in that side.
"I want to play (AFL), but I do think it's really important to try and help these younger guys get into the AFL side, so that as a club we can become a lot stronger."
After playing all 22 AFL games in 2017, then 12 in 2018, Hrovat has played just the one this year, coming in late as an emergency in Round 6.
"It is difficult to see with the results from both teams, but the competition for spots is as fierce as it has been while I have been at the club," Hrovat admitted.
"Internally, there is a lot of pressure on spots, and when you look at some of the guys playing the VFL at the moment, a lot of them would get a game at other clubs."
Hrovat says building a winning culture in the VFL is vital for the confidence of a young group.
"The win was huge," he said.
"The VFL boys have been struggling a bit in the last month, so it was really good for all of us and the coaching staff to get that first win on the board.
"It was some good reward for a lot of hard work.
"There were some really excellent performances on the day which was great to see.
"Declan Watson was absolutely superb down back, and our insiders in "Hally" (Aaron Hall), Tom Campbell, LDU (Luke Davies-Uniacke), Kyron (Hayden) were phenomenal, and it was awesome to see and to get a win."
Hrovat saving special praise for an emerging big man.
"Tristan Xerri has been phenomenal, especially considering he has come off such a lengthy injury (osteitis pubis)," he added.
"He's only played a handful of games, and hasn't trained that much.
"But his fight in the contest and his willingness to compete has been absolutely first class."