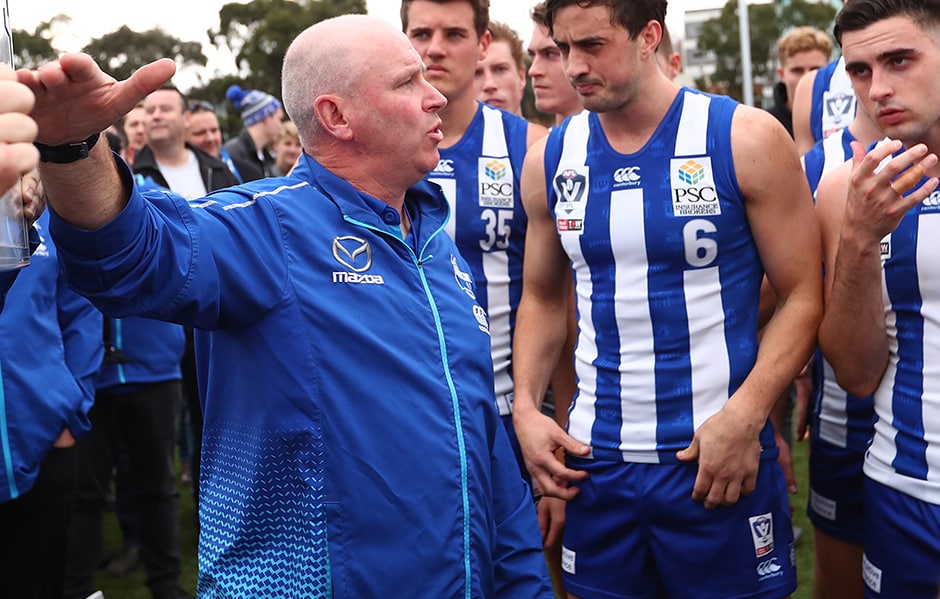 North Melbourne's upset AFL win over Richmond on Friday night was the perfect motivation for the VFL team to do the same, according to coach David Loader.
The Roos' VFL contingent enjoyed a 29-point win over the previously undefeated Tigers, in a memorable return to Arden Street.
Loader said the weekend's results could prove a vital turning point for the club.
"There's no doubt that [Friday] filtered down today … this weekend has been really massive for the club," he told North Media.
"There's been a real buy-in from the players in what has been a challenging time for the club … we have taken an enormous step forward."
According to Loader, another motivating factor in the win was the return of VFL football to the club's traditional home. He ensured that the players knew exactly what it meant, before the players ran out.
"It was fantastic to return to Arden Street… we spoke of the importance of that before the game, and the boys really seemed ready for it."
AFL-listed players Paul Ahern and Lachie Hosie were standout performers for North, with both making decisive contributions over the course of the game.
"When [Paul] is on, he is AFL quality … he had a really complete game," Loader said.
"I thought that [Hosie] was super impressive. He's got the right attitude… and I'm rapt for him."
Loader believes the victory could help kick-start North's VFL campaign, after a tough start to the season.
With two wins from eight games, there's still plenty of work to be done, but the signs are promising.
"There's been a real build to what this group's going to be capable of," Loader added.
"The boys have been in a position over the last month where we have been in winnable positions in nearly every game we've played in."
"[Against Richmond] we saw the brand of footy that we want to be known for."