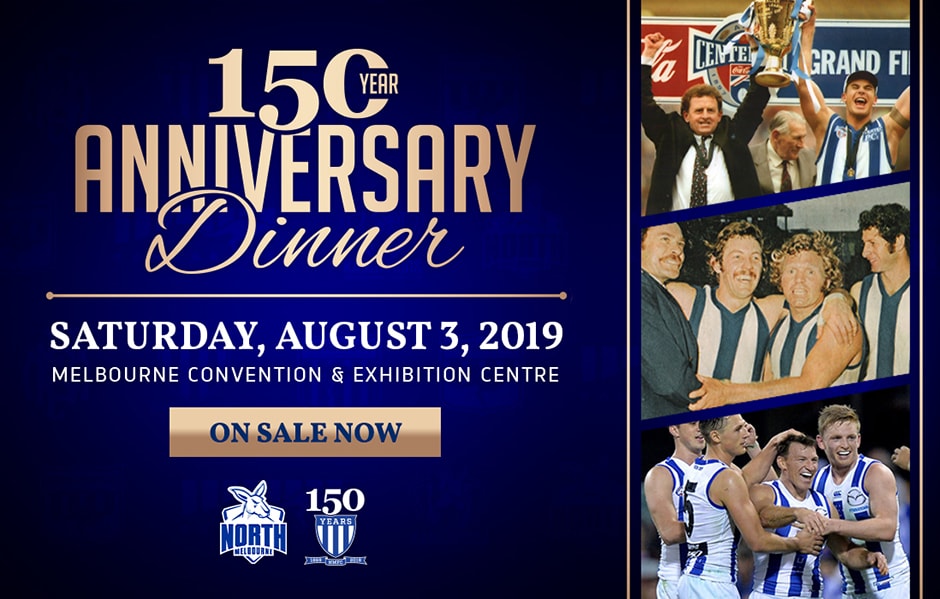 Tickets for the North Melbourne 150 Year Anniversary dinner are now on sale.
North Melbourne's greatest players of all time are set to be named when the club celebrates its rich history at a special 150 Year Anniversary Dinner.
The prestigious event will celebrate key moments in the club's past, as well as its legends, and everyone who has made North Melbourne one of the proudest and oldest sporting organisations in Australia. Key milestones will also be commemorated, including the 1975, 77, 96 & 99 premierships.
Guests will be treated to a three-course gourmet meal, premium beverages and live entertainment, and will witness the naming of North's greatest ever player.
The event will be attended by many famous names in the club's history, including past legends, coaches and directors, current players and key club personalities.
With limited tickets available, fans are encouraged to book now to avoid missing out.
To secure your spot at this once-in-a-lifetime event or for more information, click here or contact Darcy Pfitzner on (03) 9320 2475 or darcy.pfitzner@nmfc.com.au