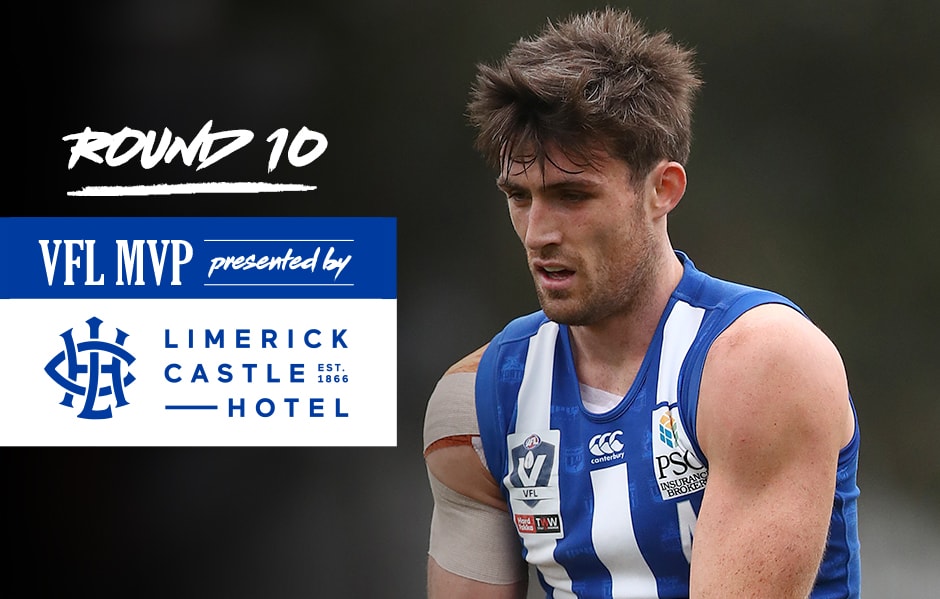 Each week, the best VFL player will be crowned MVP – Presented by the Limerick Castle; a country-style pub located in the heart of North Melbourne.
Round 10: Tom Campbell.
In just his first season at Arden Street, Tom Campbell has already established himself as a player who will do everything possible to break into the senior team.
For the fourth time in 10 games, the 27-year-old has been listed as the best-performed player in the royal blue and white stripes, earning plenty plaudits.
"That was as dominant of a performance as I've seen from a big guy in a long time," VFL senior coach David Loader told North Media.
"... just how he gets to every contest. He's not going to have that as a stat for the contests that he went to, he had a really good game.
"He was absolutely outstanding today and clearly the best player on the ground. His numbers are going to look really good I think."
Campbell's latest effort in North's 53-point loss to Williamstown on Saturday afternoon, included 33 hit-outs to complement his 21 disposals, six marks and eight tackles.
If the big man's performance on the field wasn't already impressive enough, the leadership qualities that Campbell possess certainly are, according to Loader.
"It's massive for the boys to have someone like Tommy reinforcing these positive messages," he added.
"There's a little bit of inexperience within the group and the players can tend to go back into their shells, which we don't want that to happen.
"It can be hard if you're looking to play at this level and have consistent footy.
"That's where positive messaging, telling the boys to keep going and to have a crack is important."