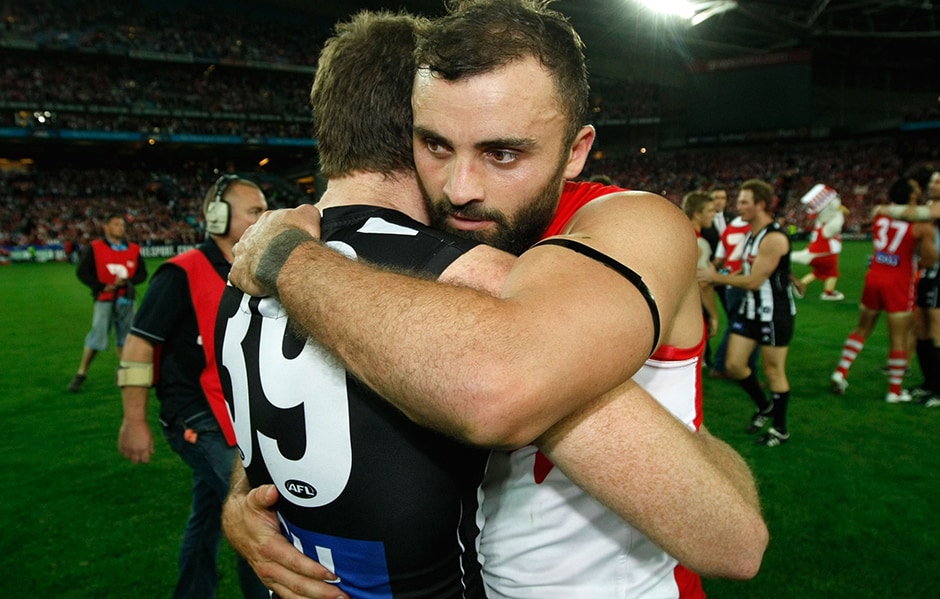 Greater Western Sydney defender Heath Shaw admits it will feel a little "weird" seeing his big brother Rhyce coaching the opposing side on Sunday afternoon.
Footy returns to Blundstone Arena for the Round 12 clash, with Heath's third-placed Giants, taking on the resurgent Rhyce-led North Melbourne side, coming off three wins in a row.
"It was definitely weird when I first played against Rhyce when he moved (to Sydney as an assistant coach)," Heath said.
"It's definitely a unique situation that he's in … and playing against him makes it even weirder."
While Heath couldn't be happier for his brother and his success as the Roos' interim coach so far, he'll be looking to spoil the party come Sunday.
"Rhyce has already called me a couple of times, which he doesn't usually do. Trying to get a bit of inside info," he joked.
"I've watched a bit of the Kangaroos throughout the year … they've played some really good football over the past month.
"They've got the rewards with Rhyce at the reins … but hopefully the honeymoon period is over."
While Heath is keen to claim bragging rights over his brother this week, he'd also love nothing more than to see Rhyce coach beyond 2019.
"[I told him] that he's got to the position where he is now through what he's done and being himself," he added.
"The boys obviously love him … and he's held himself really well over the last couple of weeks."
North boasts a strong record at Blundstone Arena, highlighted by a 42-point win against GWS in Round 9 last year.
But the task is far more daunting this time around; a 50 per cent Giants' winning ratio when the teams met in 2018, contrasted by their outstanding record of eight wins from 11 matches this year.