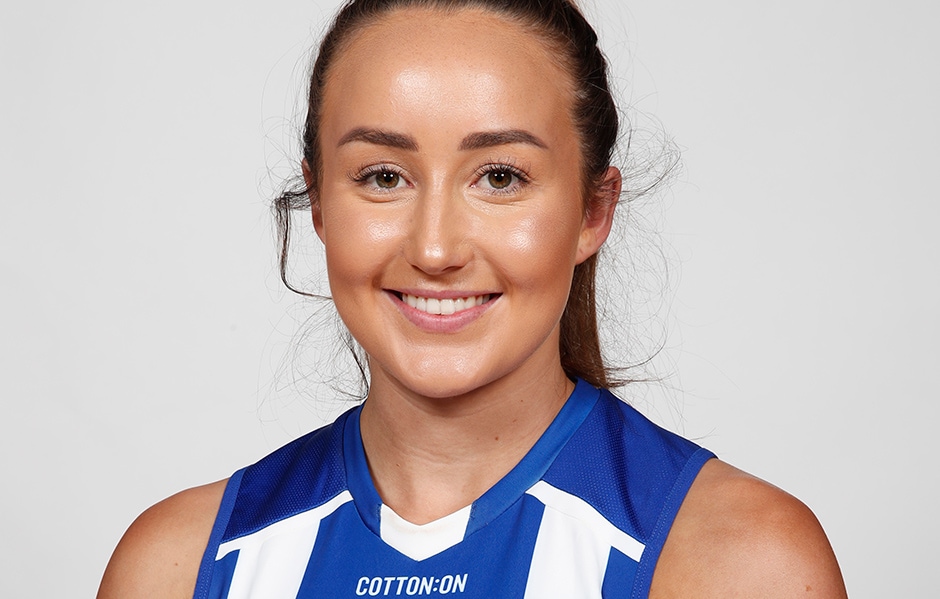 A six-week coaching stint may have given Nicole Bresnehan a sneak peek of her future.
Helping lead the North Melbourne Next Gen Academy under 15's girls team a valuable experience.
"It was really encouraging to be standing in front of 40 girls and they're so enthused about footy and training and everything that comes with it," Bresnehan told North Media.
"I find coaching really interesting; I have a lot to learn but loved seeing the younger girls take in feedback and their level of footy was so encouraging.
"It's great to work with these girls now and know that in a couple of years they will all be coming up through the ranks and using the pathways and eventually they will play at the highest level."
The pathway something new for the North Melbourne Tasmanian Kangaroos' star.
"I had never coached before, but every Monday spending an hour with those girls … it was great for my development," she said.
"The techniques and skills I teach the under 15 girls aren't that far from what I practice at North, I just adapt them to suit the capabilities of the players."
Bresnehan hopes coaching will help her on the field, as a player.
"Coaching changes the way I view the game," she explained.
"It's great for reinforced learning. There is still plenty that I can learn about the game and teaching is the best way to do that."
Even though a novice, her enthusiasm and skill was clear.
"She commands respect rather than demands it and the girls have been very engaged, obviously enthusiastic and most receptive to the way she conveys info," AFL Tasmania development coach, Mick Arnold, said.
"She is setting a great example to her charges on a number of fronts - particularly by the professionalism of her approach. It's been a great start to her coaching career. Really inspirational."
AFL Tasmania CEO Trisha Squires agreed.
"It was a show of great leadership," she said.
Bresnehan' s experience with the academy, provided her new hope for the future of women's football.
"I didn't start footy until a bit later, so seeing these girls with such good skills at just 14 and 15 is great," she said.
"Knowing that they have this opportunity is one thing but seeing them grab it with both hands ... Well it makes me so excited to see.
"A few of the girls asked for feedback from me which I thought was really great. I hadn't coached before, but it was nice for them to be interested in what I thought about their game.
"I also think that a couple of them were glad to hear about my experiences playing AFLW, because they're at the age where they feel like they have to be the best in order to be successful.
"I think that I was able to help them understand that everyone develops at different times, and it takes years to perfect these skills.
"A lot of these girls really have the right mindset and attitude. Even if they're not the best now, I think they will be in the future."