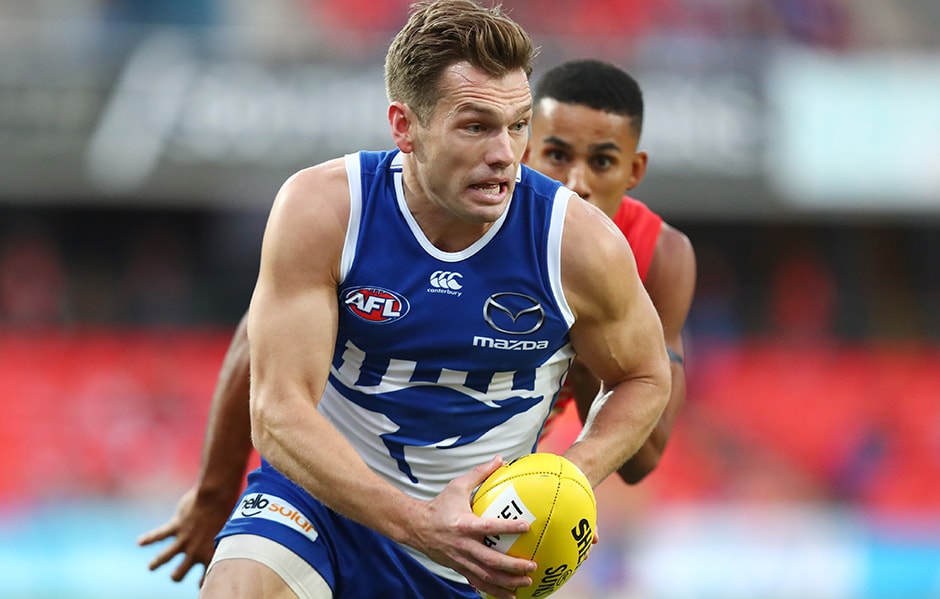 Shaun Higgins says he's ahead of schedule in his return from an AC joint injury, and is aiming to be back training with his teammates in the next "two-three weeks".
The midfielder underwent surgery after suffering the injury against the Gold Coast Suns in Round 12, but is making a strong recovery.
"I'm feeling really good. We've made really good progress," he told North Media.
"The first week went pretty slow, and the last week we've been able to build up which has been good.
"We'll wait and see, but so far, so good in terms of the timeline and where we are at. I'm probably slightly ahead of where I expected to be."
Higgins made a welcome appearance at Arden Street on Tuesday, running laps and joining in some light ball-work.
"The first week was pretty slow … I didn't do a lot because I was in a sling, but I made some really good gains the last week," he said.
"Hopefully that continues over the next week and we'll see where we are at.
"I'm looking to get out on the training track with the boys in the next two-three weeks, and then build up and hopefully play off the back of that."
Higgins' time on the sidelines won't be wasted, with the Roos' number four put to work with the coaches.
"I'll be helping out with the younger guys in the midfield," he added.
"Obviously with the coaching re-structure, there's a spot there to help Jarred Moore with the midfielders. What that looks like, I'm not 100 per cent sure, but that started during the week and hopefully I can help out on game day as well."