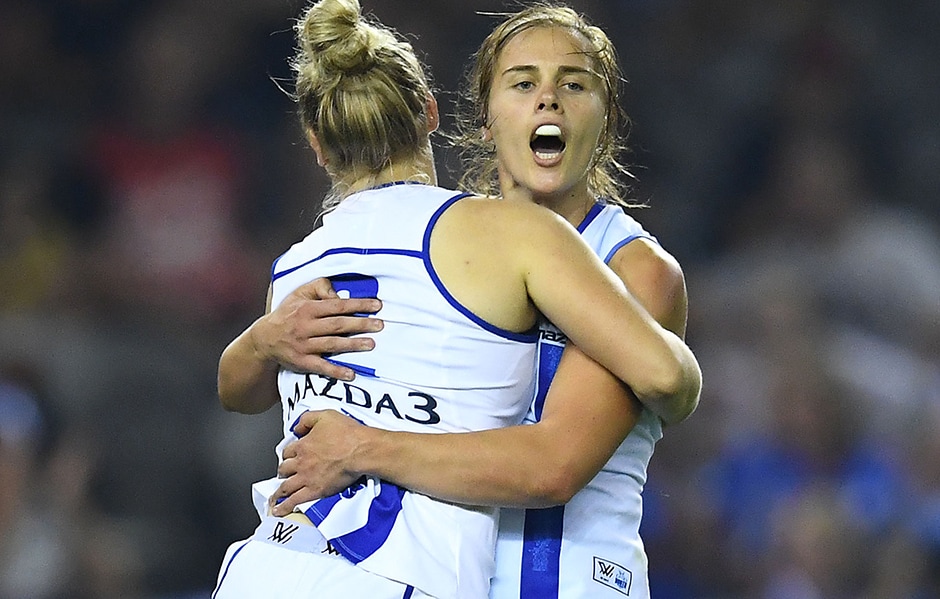 Jas Garner is used to rolling up her sleeves and getting her hands dirty for the North Melbourne Tasmanian Kangaroos, but the star forward is taking things to a new level off the field.
Garner is swapping the corporate life for the tools, beginning a plumbing apprenticeship.
"When I was teenager it wasn't really heard of to have females doing the trades, it was very male dominant. Like it was playing footy," Garner told North Media.
"But now it's more common to have females on the tools."
Garner has been a pivotal force in helping develop the next wave of talent over the past year at Arden St, employed as North's academy operations coordinator.
"Growing up, I never thought I would be working at a football club," she said.
"I sit a couple of meters away from the AFL coaches, and I'm sitting right there as the players come in and do their reviews. It has been something that I never thought I would get to experience.
"It's been the coolest experience."
Garner says the decision to embark on an apprenticeship was made with a long-term view.
"I'm really excited for this and it will be a good change," she said.
"Footy isn't forever. I'm almost 25, and once I complete my apprenticeship, I'll be 29, and hopefully still playing footy.
"But you have to think outside of the box and I know that once I finish footy, I'll want to have something and this way before I'm 30 I'll be a qualified plumber."
Besides the excitement of working at an AFL club, Garner says she will be walking away with lifelong skills.
"I've learnt a lot about myself in the past year, and I've picked up a few more leadership qualities," she said.
"I was given a lot of opportunities to take on a project and really have the chance and ownership to make something out of it.
"Growing up I was quite shy and didn't like to talk. But I've definitely grown more comfortable and confident, and I can use that in everyday life."
The chance to work with Cooke and Dowsett, coming about from the connection with North.
"Cooke and Dowsett are doing the Arden St re-model, and when I spoke to the footy department about wanting to go into the trades, they introduced me to someone there," Garner said.
"It will be a lot of early mornings, but that means we'll finish in the early arvo and I can head over to training."