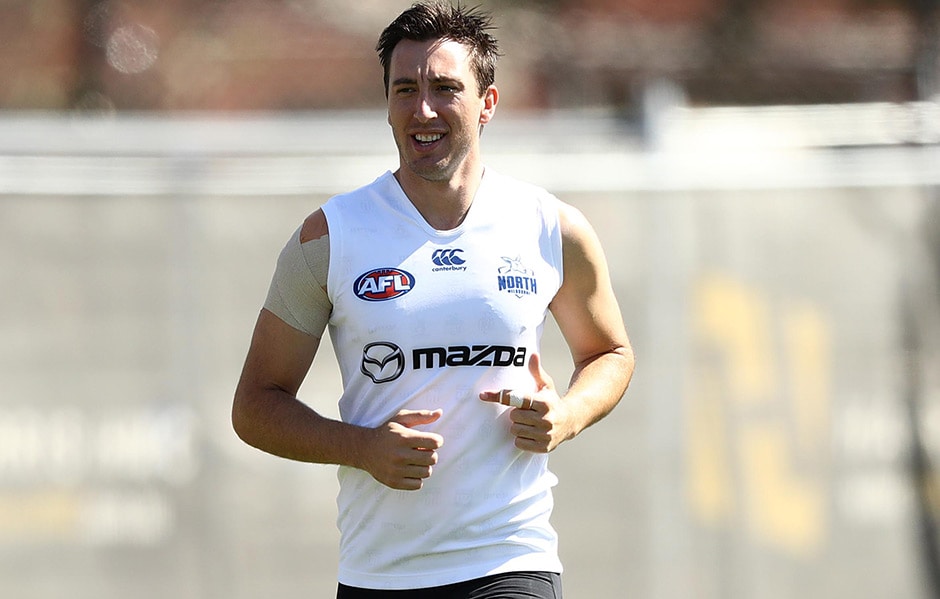 North Melbourne v Sandringham
Sunday, July 7 - 11.40am
Arden Street
North Melbourne returns to its traditional home, Arden Street, hosting Sandringham on Sunday.
It's fair to say the Roos have found the going tough in 2019, with just two wins from 11 games, but will be keen to bounce back in front of their home fans.
Off the back of a strong performance against Richmond, the Zebras are looking to add to their five-win tally.
Majak Daw is set to make his return for North.
The squads
North Melbourne
B: 36. J. Crocker, 23. B. McKay, 1. M. Daw
HB: 34. J. MacMillan, 35. D. Watson, 19. S. Wright
C: 46. L. Hosie, 9. L. Davies – Uniacke, 28. K. Turner
HF: 31. C. Taylor, 6. T. Garner, 56. B. Whitecross
F: 8. N. Hrovat, 38. T. Xerri, 20. N. Larkey
R: 42. T. Campbell, 15. P. Ahern, 52. N. Rippon
Int: 64. L. Cunningham, 75. C. Hodges, 59. N. Holmes, 51. T. Hotchin, 61. C. Jansen,
53. T. Leonardis, 54. J. McIvor-Clark, 68. Q. Montanaro, 57. A. Morgan, 79. R. Morrison, 63. S. Parsons, 72. D. Robinson
23P: 69. R. Mutch
In: S. Parsons, Q. Montanaro, L. Davies – Uniacke, N. Hrovat, N. Larkey, T. Hotchin, K. Turner, J. McIvor-Clark, M. Daw
Out: M. Northe
Sandringham
B: 37. B. Rice, 39. D. Joyce, 31. B. White
HB: 38. O. Clavarino, 43. J. Marsh, 59. J. Noone
C: 46. D. Langlands, 20. D. Armitage, 62. S. Tahana
HF: 13. J. Lonie, 47. S. Rowe, 41. R. Young
F: 51. J. Haidon, 66. S. Fox, 50. N. Wright
R: 55. K. Owens, 49. B. Seccull, 53. K. Answerth
Int: 8. B. Acres, 22. N. Brown, 52. J. Hille, 79. J. Mayo, 36. D. McKenzie, 16. J. Newnes,
67. B. O'Toole , 34. M. Parker, 33. B. Paton, 70. D. Seccull, 61. N. Smith, 74. T. Thomas
23P: 23. A. Hanrahan
In: B. O'Toole , B. Acres, D. Armitage, M. Parker, D. McKenzie, B. Paton, T. Thomas, J. Lonie, D. Seccull, A. Hanrahan
Out: J. Batchelor, M. Batten
The key players
North Melbourne
Sam Wright
The defender's experience and cool head will be key in the back half, alongside Jamie Macmillan.
Wright returned from an ankle injury last week, but after a game to settle back in, should provide plenty of drive from the defensive 50.
Sandringham
Jack Newnes
You don't play 123 consecutive AFL games without being a talent, and Newnes has been a consistent performer for St Kilda ever since his debut in 2012.
Strong on the inside and outside through the midfield, Newnes could cause some headaches for North if not afforded the due respect.
What the coach said
"I think our work rate lifted a fair bit (in the second half).
"We just controlled so many aspects of the game after half-time. I think we dominated the third quarter and we dominated around the footy. We had plenty of looks, we just couldn't score." - North coach David Loader after the loss to Collingwood