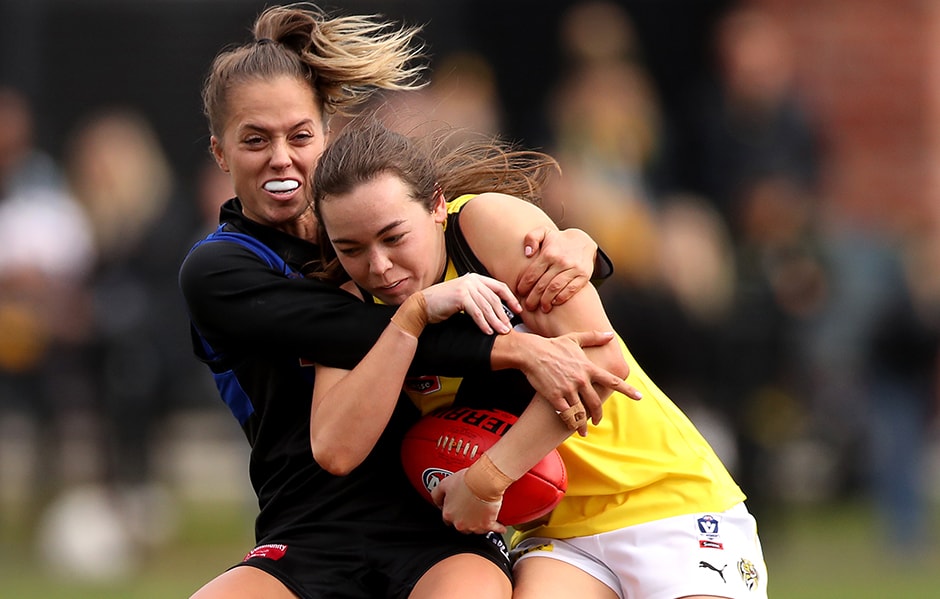 VFLW Round 9
Casey Demons v Melbourne University
Saturday, July 6 - 11.30am
Casey Fields
Two North Melbourne Tasmanian Kangaroos' stars will return for Melbourne University's Round 9 clash against Casey.
Speedster Kaitlyn Ashmore and forward Elisha King are among eight inclusions for Saturday's game at Casey Fields.
Melbourne Uni and the Demons currently sit seventh and eighth respectively on the VFLW ladder, and with only win separating the fourth and ninth-placed sides, it looms as a vital clash.
Coming off a disappointing loss against Essendon, Scott Gowans' side will be desperate to bounce back.
Melbourne Uni
B: 17. E. Hay, 37. K. Ebb, 28. H. Whitford
HB: 27. J. Duffin, 15. L. Walsh, 47. M. Hare
C: 14. M. McDonald, 34. K. Cox, 3. T. Mesiti
HF: 10. K. Ashmore, 13. K. Price, 19. J. Grierson
F: 38. K. Angelis, 39. V. Saad, 32. C. Daniec
R: 5. K. Gillespie-Jones, 4. E. King, 36. N. Julian
Int: 53. C. Adams, 23. N. Moore, 52. M. Shone, 8. A. Tupper
Emg: 42. L. Amelung, 44. E. Bult, 43. M. Muller, 51. J. Tancred
23P: 41. J. Thomas
In: J. Thomas, H. Whitford, J. Tancred, K. Ashmore, M. Hare, E. Bult, L. Amelung, E. King
Out: S. Abbatangelo, A. Roan , J. Trend, B. Gibson