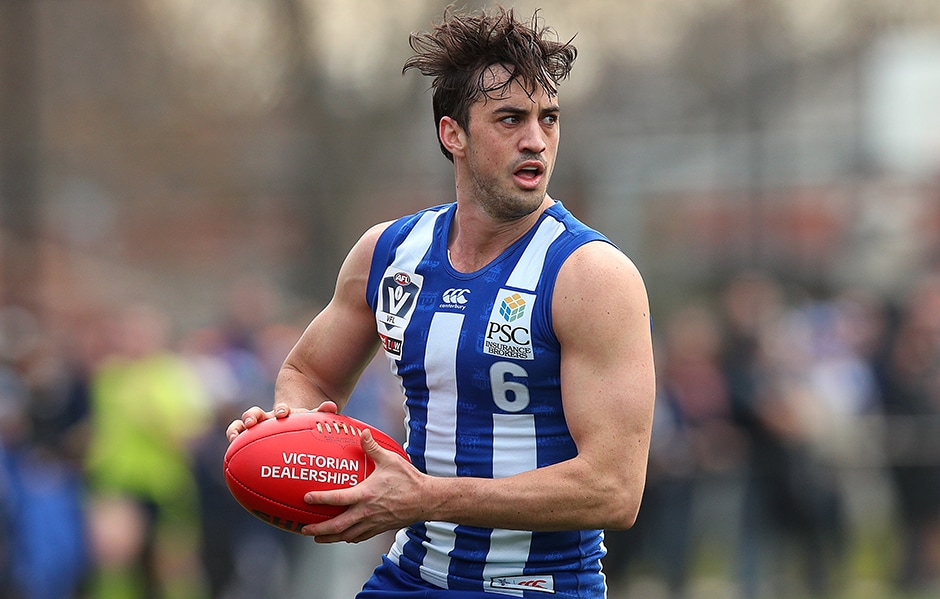 Match result
North Melbourne 14.14.98 def. Sandringham 5.11.41
Player stats
AFL-listed
Taylor Garner (26 disposals, 8 marks, 2 goals), Joel Crocker (25 disposals), Tom Campbell (24 disposals, 33 ht-outs, 1 goal), Ben McKay (23 disposals, 14 marks), Jamie Macmillan (19 disposals), Curtis Taylor (16 disposals, 4 goals), Nathan Hrovat (14 disposals), Declan Watson (13 disposals), Tristan Xerri (13 disposals, 12 hit-outs, 8 marks), Sam Wright (12 disposals), Majak Daw (4 disposals)
VFL-listed
Nash Holmes (30 disposals, 11 tackles), Nick Rippon (28 disposals, 3 goals), Dan Robinson (26 disposals), Ty Leonardis (25 disposals), Ryan Morrison (17 disposals, 3 goals), Chris Jansen (16 disposals), Brendan Whitecross (16 disposals), Louis Cunningham (11 disposals), Rhys Match (10 disposals), Cameron Hodges (7 disposals), Alex Morgan (5 disposals), Jordan McIvor-Clark (4 disposals)
Recap

It was a day to remember for North Melbourne's VFL side which lead from start-to-finish against Sandringham on Sunday afternoon.
Playing for just the second time at Arden Street this season, the Roos had plenty of reasons to celebrate, with a huge crowd in attendance to welcome back Majak Daw.
The returning star played for 21 minutes, before supporting his teammates from the sidelines. His return deemed a success following severe hip and pelvis injuries suffered some six months earlier.
VFL-listed forward Ryan Morrison set the tone for the afternoon, booting the first of his three goals, on the back of some solid build-up play from promising youngster, Curtis Taylor.
The energetic Taylor was a key link in several attacking plays, and could consider himself unlucky to not have kicked a bag of goals, converting four of his eight opportunities.
A strong breeze made set-shots particularly difficult at either side of the ground, as both teams struggled to convert.

North entered the main break with a 26-point lead, and managed to extend it to 34 points at the last change.
A resilient display in defence kept the visitors goalless in the final term, setting the stage for an impressive 57-point win.
Taylor Garner was monumental, stretching the Zebras' defence on several occasions and finished with 2 goals and 26 disposals.

Jamie Macmillan and Sam Wright flanked Ben McKay in defence, with the experienced trio granting VFL captain and development coach Brendan Whitecross freedom to explore around the ground.

What the coach said

"You can't underestimate how important it is for a club to have a home ground," VFL senior coach David Loader told North Media.
"It's our home ground and we've played here twice in two years. There seemed to be a lot of people watching and you could hear the crowd cheering the boys on.
"I'd imagine the boys want to play here as much as they possibly can, cause I know we certainly do. We're using our facilities and we're running out of our rooms, everything works for us, it's all positive.
"I thought we were way more consistent and that's on the back of finishing with 18 fit players. This has been a hurdle for us to get over all year and the boys held strong, especially in the last quarter.
"We came into the game really prepared, but we're like that every week. We go into every game thinking we're going to win.
"When you get a little bit more experience in the group and when you're playing at home, there was a lot to give us a shot in the arm today."
Best of AFL

Ben McKay
On an afternoon that was dominated by North's impressive forward six, it was McKay who quietly went about his business.
The 21-year-old helped stifle Sandringham's forward entries, limiting the Zebras to just five goals.
McKay's aerial presence was reflected in his numbers as he chalked up 14 marks to go along with 23 disposals.
"When he positions himself right and puts himself in the right slot to mark the ball, he's an imposing player," Loader added.
"It was great to see him play another good game today."

Best of VFL

Nick Rippon

Since returning from injury, the inaugural John Law medallist has wasted little time replicating the form that's made him a fan favourite.
Rippon produced one of his best performances for the year, tallying 28 disposals and 3 goals.
"He's an impressive player that continues to get the job done," Loader said.
"We've missed him greatly this year when he hasn't been with us. He's shown in the last two weeks just how good he actually is.
"You couldn't ask for any more from a VFL-listed player."