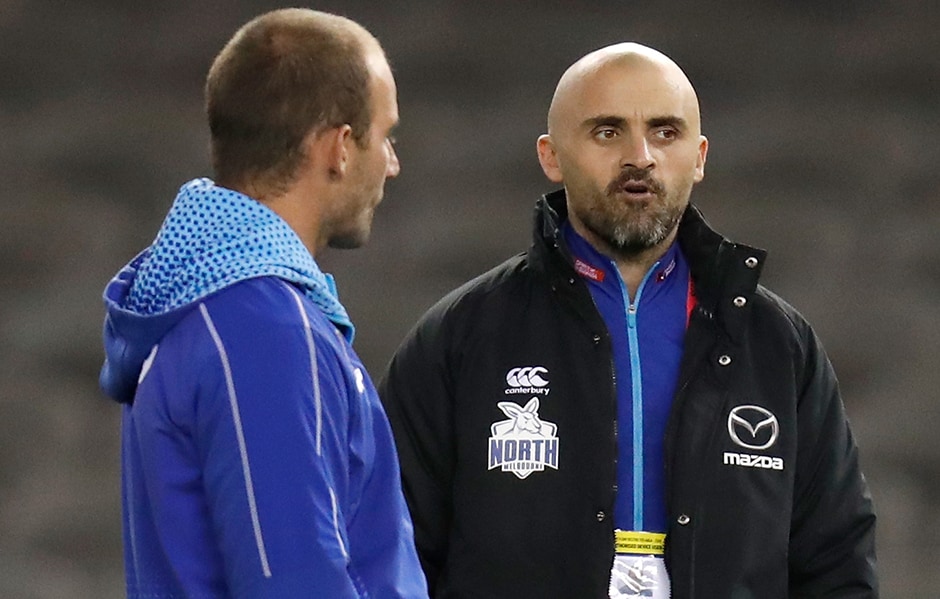 North Melbourne interim coach Rhyce Shaw has left Ben Cunnington in no doubt where he stands after the hard-nosed midfielder's fourth fine for striking this season.
Shaw said the resurgent Kangas couldn't afford Cunnington to risk a near-certain suspension should another incident occur.
"Ben plays on the edge but he's got to be really disciplined, he knows what's going to happen next if he has one more so we've got to be really careful with that. He knows the importance that he has in our team," Shaw told reporters on Wednesday.
Cunnington has been found guilty of striking four times in 16 games this year, his coach noting the habit had the potential to impact the club as it fights to stay in touch with the top eight.
"It's way too much and he knows that. He's putting himself at risk and he's putting the team at risk, he knows that and he's really clear on where he stands," Shaw said.
Meanwhile Majak Daw is set to play a half in the VFL this week following his successful return from serious hip and pelvic injuries last week.
"[Majak] got through the game on the weekend which was really pleasing … he's pulled up well. He'll look to play another half this week so that's really exciting news for all of us, it's a really good story," Shaw said.
"He's been through a hell of a lot, as has the club, and I just thought it was really special … even though he shanked a couple of kicks, it was just good to see his smile out there."
Veteran defender Jamie Macmillan is a chance to return to senior footy for North's crucial clash against Essendon on Saturday.
Shaw said Macmillan had impressed in his two games in the VFL following a calf issue sustained during his 150th game, the Roos' round 11 win over the Tigers.
"He played a really good game two weeks ago and did a pretty good job on the weekend," he said.
"We're trying to make sure that our team has high standards and everyone earns their spot … I know Jamie's been working really hard to get back in the side and that's a real positive for all of us."
Macmillan's return would bolster the Roos' defensive line as they face a Bombers side on a roll, coming off four wins from its last five games. The Marvel Stadium clash is a must-win for both sides, which are desperate to keep their respective finals hopes alive.
Shaun Higgins is also edging closer to a return from a shoulder injury that has kept him out since round 12.
"He's on track … he's unlikely this weekend but he's going really well – it was a significant injury so to be tracking the way he is is really pleasing," Shaw said.