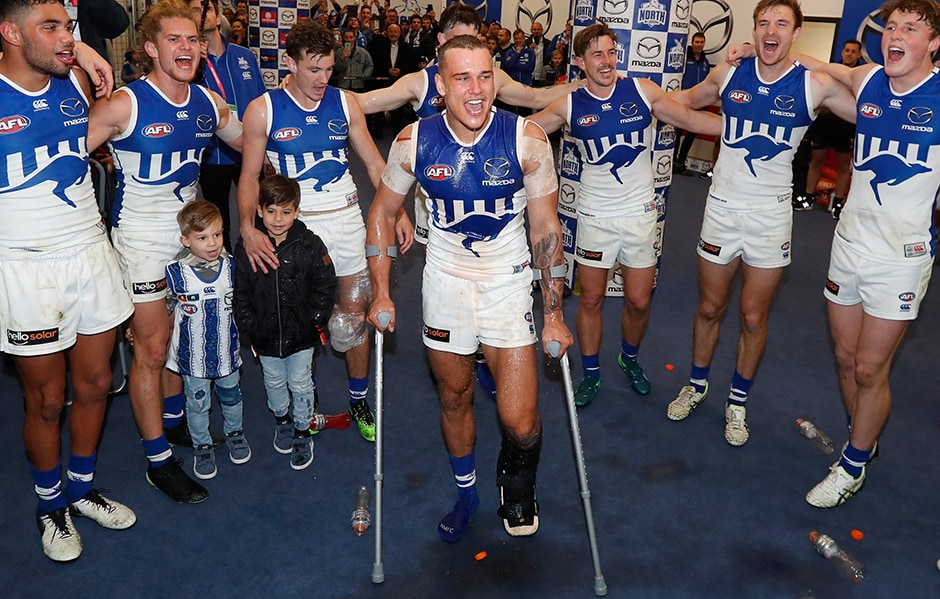 The first person Kyron Hayden thought of when he snapped his achilles was Kevin Durant.
The North rookie had recently seen the NBA superstar go down in Game 5 of the finals for the Golden State Warriors, when he tried to push off his already injured calf.

Having witnessed Durant's collapse, Hayden knew his injury was identical.
"I pretty much did the exact same thing," Hayden recalled.
"I'd watched Durant two weeks earlier, so I knew exactly what had happened to me."
It was a game of mixed emotions for Hayden who was making his long-awaited debut. With his family and friends down from Western Australia watching him from the sidelines, the 20-year-old had started well, tagging Collingwood captain Scott Pendlebury.

But in the second quarter, his world came crashing down.
"I just remember it being in a slow play. I was just sitting off Pendlebury a little bit and then I went to accelerate, come forward to him, and I thought someone came and chopped me in the back of the leg," Hayden explained.
"When I looked back and saw nobody behind me, I knew exactly what had happened … I was yelling to the bench that I'd done my achilles and just worked my way off somehow."
Club doctors didn't take long to confirm Hayden had fully ruptured his achilles.
"Obviously, it was a bit of a rollercoaster. I was pretty excited and up and about, and then that happened," Hayden added.
After coming to terms with his injury, Hayden refused to let it get him down.
"I was still happy that I got the opportunity to play and I got to experience AFL," he told North Media.
"I guess I didn't want to be sad and sorry, because I did play my first game … I was still on the bench supporting the boys until the end and I was pretty happy that we got a good win."
That taste of AFL, albeit small, enough to inspire Hayden through his lengthy recovery.
All going well post operation, Hayden hopes to be ready for the start of the season in 2020.
"That's footy, you know, these things happen," he said.
"I'm just looking forward to the next ten months or so; working on my body and stuff, getting right and then playing Round 1."
"Just having the experience, you really look forward to the next time you're gonna get it. Unfortunately, mine's gonna be a bit further away than I was hoping, but it was a great experience.
"It's a dream, really, playing AFL football; it's something that I can keep in the back of my mind to keep me motivated."