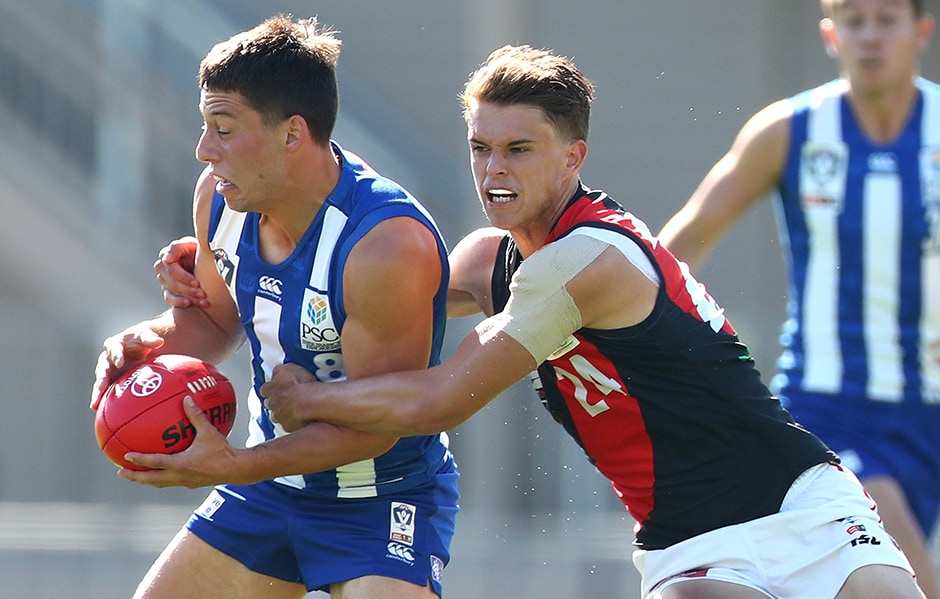 Essendon v North Melbourne
Saturday, July 13 - 12pm
Windy Hill
North Melbourne takes on top of the ladder Essendon in a big clash at Windy Hill on Saturday.
The Roos have had mixed fortunes so far in 2019, but will be buoyed by their biggest win of the season last time out.
They face a tough task away to Essendon, with the Bombers having won their last five matches.
Majak Daw is set to continue his comeback for North.
The squads
North Melbourne
B 36. J Crocker 1. M Daw 64. L Cunningham
HB 35. D Watson 23. B McKay 24. S Durdin
C 75. C Hodges 59. N Holmes 19. S Wright
HF 41. T Wilkinson 56. B Whitecross 38. T Xerri
F 46. L Hosie 79. R Morrison 8. N Hrovat
R 42. T Campbell 72. D Robinson 9. L Davies - Uniacke
Int 61. C Jansen 68. Q Montanaro 51. T Hotchin
72. M Northe 45. R Murphy 54. J McIvor-Clark
71. B McLaughlin53. T Leonardis
23P 67. L Davis
Essendon
B 49. Matt Dea 30. Brandon Zerk-Thatcher 59. Aaron Heppell (C)
HB 50. Josh Tynan 14. Jordan Ridley 46. Tom Jok
C 34. Jake Long 75. Kurt Aylett 41. Ben McNiece
HF 16. Josh Begley 77. Heath Hocking 39. Trent Mynott
F 12. Mark Baguley 32. Noah Gown 24. Jordan Houlahan
R 66. Luke Goetz 23. David Myers 40. Will Snelling
Int 62. Nino Lazzaro 73. Daniel Guccione 56. Dylan Landt
Jacob Brown 74. Riley Bowman 61. Wilson Berry
Bruno Laguda 79. Jake McQueen
23P 53. Daniel Hanna
The key players
Luke Davies-Uniacke
Davies-Uniacke has been omitted from the AFL team having played the last six at the top level.
The former pick 4 clearly has the talent, and will no doubt be looking to regain some confidence and force his way back into the senior team.
The number 9 was one of the Roos' best in their Round 6 win over the Cats, his last outing in the VFL.
Essendon
Will Snelling
Snelling hasn't missed a beat since joining the Bombers through the 2019 Mid-Season Rookie Draft.
The midfielder has averaged 27.4 disposals and 7 tackles in his 5 VFL games, including 34 disposals and 9 tackles last weekend.
The South Australian will be key to the Bombers chances on Saturday.
What the coach said
"I thought we were way more consistent and that's on the back of finishing with 18 fit players. This has been a hurdle for us to get over all year and the boys held strong, especially in the last quarter.
"We came into the game really prepared, but we're like that every week. We go into every game thinking we're going to win.
"When you get a little bit more experience in the group and when you're playing at home, there was a lot to give us a shot in the arm today." - North coach David Loader after last week's win over Sandringham