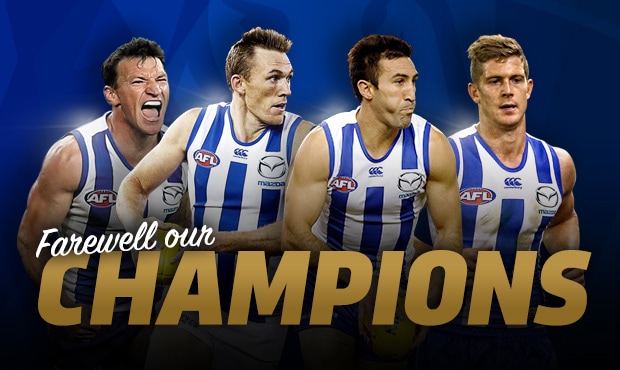 North Melbourne has made the difficult decision not to re-contract four of its most decorated players.
The club has advised Brent Harvey, Drew Petrie, Nick Dal Santo and Michael Firrito that 2016 would be their last season at Arden Street.
Harvey's illustrious career in the royal blue and white has spanned an incredible 21-seasons.
Durable, reliable and elite in every category, 'Boomer' will leave a profound legacy.
Currently with a record 430 games under his belt and 516 goals, Harvey's list of achievements also includes a premiership in 1999, an EJ Whitten Medal, five All-Australian team honours and captaincy in 2008, a record five Syd Barker medals, North Melbourne Team of the Century and Shinboner of the Era (2005-2015).
Since arriving at Arden Street via the 2000 Draft, Petrie has epitomised North's famed Shinboner Spirit with his team first attitude and courage.
A versatile key position player and All-Australian in 2011, he was the club's leading goal-kicker five times in 2009, 2011, 2012, 2014 and 2015.
Petrie became just the fifth North player to reach the 300-game milestone and represented Australia in the International Rules in 2008.
Firrito is a fierce competitor who never takes a backward step. Stoic in defence, he has been a galvanising force that held the club together in the toughest of times.
Often given roles on much larger opponents down back, 'Spud' has been a standout since being elevated off the club's Rookie List in 2003 and is considered the ultimate club-man due to his unparalleled courage and bravery.
He won a Rising Star nomination in 2004 and represented Australia in the International Rules series in 2008.
After crossing to North from St Kilda, Dal Santo's leadership, skill and class helped catapult the Roos into three consecutive finals campaigns including two preliminary finals in 2014 and 2015.
A smooth mover and elite ball user, he has played more than 300 games.
An All-Australian on three occasions, 'Dal' also featured in three Grand Finals and was runner-up for the Brownlow medal in 2011.
The club is indebted to these four individuals for their professionalism, leadership, attitude and competitiveness.