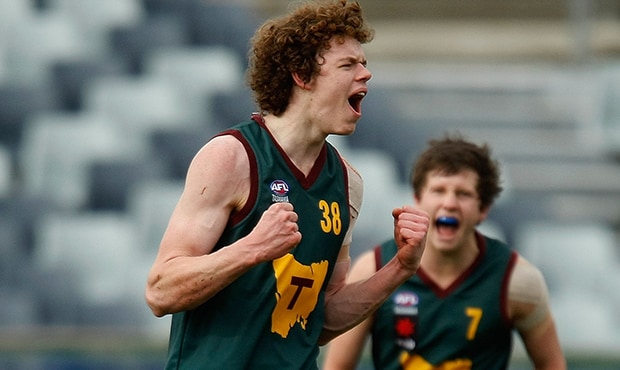 North Melbourne has announced a new partnership with AFL Tasmania that will enable Tasmanian State League (TSL) and Tasmanian State League Women's (TSLW) players to be eligible for selection in North's VFL sides.
North VFL Manager Andrew Carson said the partnership, which extends to VFLW via the Melbourne University Women's Football Club (MUWFC), is designed to help retain the TSL talent pool in both the men's and women's competitions and reduce the number of players leaving to pursue football careers interstate.
"We're committed to developing the game and players in Tasmania and jumped at this opportunity to further enhance the prospects of TSL players," Carson said.
"These players will have the opportunity to come and train with us and be exposed to the AFL standards and requirements we set for our VFL players."
Carson said the agreement would be mutually beneficial.
"There is an added bonus for these players who will now have exposure across two State League competitions. The VFL produced another seven players through the draft this year, and we hope to help create more draft prospects out of Tasmania.
"We hope the players will be able to take their learnings and experiences back to their TSL clubs and help with the development of club programs."
Tasmanian State League Manager, Carl Saunder, said the partnership was a tremendous outcome for the state.
"We continue to partner with North Melbourne to develop our elite talent pathway and this is an extension of that," Saunder said.
"As a competition, we are really excited about this partnership with North Melbourne and the opportunities it provides for both male and female players.
"This is an opportunity for TSL players to improve and impress and for our TSL clubs to retain promising talent and remain strong.
"For our TSLW players, it is a fantastic opportunity to impress in the VFLW with the Tassie Roos just around the corner."
North's affiliation with Tasmania continues to go from strength to strength, not only with the announcement of the AFLW side, but also at a grassroots level.