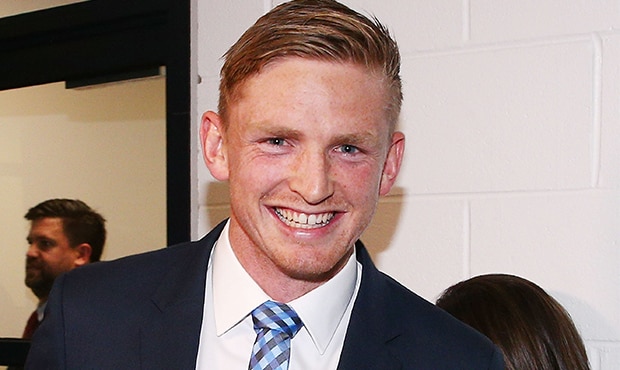 North Melbourne captain Jack Ziebell is free to lead his team against Greater Western Sydney on Saturday after his one-match suspension for kneeing was thrown out by the Tribunal on Tuesday night.
Ziebell was charged with kneeing Reece Conca during the first quarter of North's 10-point loss to Richmond last Sunday, with Match Review Officer Michael Christian offering him a one-match ban after assessing his conduct as intentional with low impact to the head.
Ziebell fought the charge on two fronts, saying: (a) his act had not been intentional, nor careless, but accidental; and (b) it had not been of sufficient force to constitute a reportable offence.
"It's a good result," Ziebell said after the hearing. "Obviously, I didn't do it on purpose, it wasn't intentional. (I'm) glad the Tribunal saw that."
Following a 30-minute hearing, Tribunal jury members Wayne Henwood, Stewart Loewe and Jason Johnson took just four minutes to throw the charge out.
After finding the force of Ziebell's conduct was insufficient to be graded low, they did not have to consider whether it was intentional or careless.
Earlier, Ziebell told the Tribunal the incident had occurred after Conca had tackled him while he was in possession of the ball.
The North skipper said he had lifted Conca while both maintained a grip on the ball, and was trying to knock it out of the Richmond player's hands.
Ziebell said Conca then swayed slightly to the right, knocking him off balance. Given Conca was "a pretty heavy guy", Ziebell said he had unable to hold him up any longer and fell forward.
"I had nowhere to go," Ziebell said.
The Roos forward also said he had not been aware his left knee had made contact with Conca's head at the time, and was surprised when umpire Ray Chamberlain paid a free kick against him.
Richmond's medical report by club doctor Greg Hickey stated Conca had not suffered any injury in the incident and had not required any treatment.
The AFL's legal counsel, Andrew Woods, submitted Ziebell had forced Conca back onto the ground rather than letting him go, and argued the fact the Roos' left knee was protruding further forward than his right knee at the time of impact was evidence he had been trying to make contact with Conca's head.
Ziebell denied these suggestions when cross-examined by Woods.
Ziebell's advocate, Rob O'Neill, submitted he had been contesting the ball throughout the entire incident and had made accidental contact with Conca as a result.
O'Neill also said there was no evidence the impact had been more than negligible, pointing to the lack of remonstration from Conca and his teammates, and the fact Conca did not feel his head afterwards or show any signs he had just been subjected to a forceful blow.