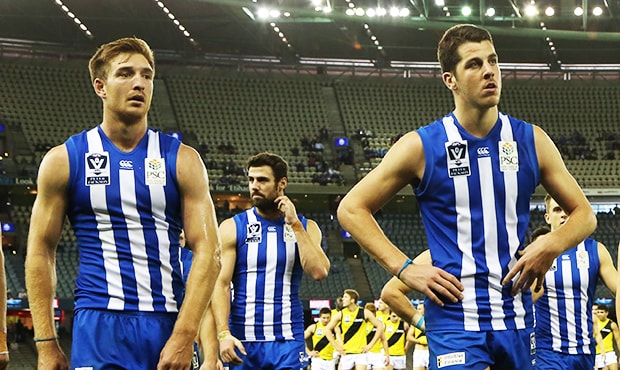 There was no hiding the disappointment following North VFL's 88-point loss to Richmond on Sunday, however there was a handful of positives to take from the game.
North Media spoke with senior assistant coach Ben Dyer about some of North's stand-out performers.
Cameron Zurhaar | 14 disposals | 5 tackles | 5 clearances
"Cam was good. He played as a forward for the first half, and then he became an inside midfielder after half-time, and gave us a stronger presence around the stoppages.
"He just gave us a different look in the middle. His intent's really strong, and he closes the space really quickly when he goes to pressure.
"He's still got to fine-tune his technique a little bit because the intent is there, but he doesn't always nail every single tackle.
"For him that's good he can go in and develop that part of his game."
Ben McKay | 14 disposals | 5 marks | 3 rebound 50's
"Ben McKay sets up really well, and he's getting really good at coming off and supporting the contest.
"There were a number of examples where Benny McKay came third-up in a contest and spoiled to help the other defenders out.
"He's clunking them and he had a really strong contest where he went back with the flight on the wing. He got crunched, but it just shows the mindset he's got.
"He's growing with confidence in the air as the season goes on."
Sam Durdin | 11 disposals | 4 marks | 4 tackles
"Sam has really improved his marking this year.
"He's always gotten to some good spots in the past, but they haven't stuck, particularly as a forward.
"He had a number of good intercept marks again on the weekend, and he's probably using his body a little better than he has in the past as well.
"He's reading it well in flight, but then edging his opponent out and taking his marks."
Nash Holmes (VFL listed) | 26 disposals | 7 tackles | 8 clearances
"We were really impressed with Nash's competitiveness.
"He just competes and he's able to half contests and force secondary stoppages, which fortunately for us in the past few weeks have been few and far between.
"He does his bit to try and hold the opposition up.
"He'd be the first to admit that he could probably use the ball a bit better, and that's something he'll continue to work on this year, but in terms of effort and repeat efforts at the contest, he's pretty important for us."
Individual player stats
Nick Rippon | 24 disposals | 4 marks | 6 tackles
Chris Jansen | 24 disposals | 6 marks | 5 clearances
Paul Ahern | 22 disposals | 4 marks | 3 tackles
Josh Williams | 21 disposals | 5 marks | 5 inside 50's
Tristan Xerri | 15 disposals | 8 marks | 3 goals
Will Walker | 14 disposals | 5 marks | 2 goals
Tyrone Leonardis | 14 disposals | 3 marks | 2 tackles
Alex Morgan | 13 disposals | 1 tackle | 1 rebound 50's
Braydon Preuss | 10 disposals | 29 hitouts | 3 tackles
Kyron Hayden | 10 disposals | 5 tackles | 3 clearances
Thomas Murphy |10 disposals | 2 marks | 4 rebound 50's
Michael Close | 9 disposals | 6 marks | 1 tackle
Taylor Garner | 8 disposals | 2 marks | 4 tackles
Fraser Cameron | 8 disposals | 1 mark | 1 clearance
Louis Cunningham | 8 disposals | 1 mark | 2 rebound 50's
Luke Davies-Uniacke | 7 disposals | 2 marks | 2 tackles
Nick Larkey | 7 disposals | 3 marks | 1 goal
Oscar Junker | 7 disposals | 2 tackles | 1 inside 50
Mitch Rodd | 2 disposals | 1 tackle
The views in this article are those of the author and not necessarily those of the AFL or its clubs