Nipping at the heels of Diamond Creek, the North Melbourne affiliated Melbourne University Women's team is fighting for top spot this weekend as the two teams face off.
MUWFC sits second on the VFL Women's ladder, with six wins and one loss at the midway point of the season.
A 76-point victory against Seaford last week has Melbourne Uni locked in a tight battle with VU Western Spurs, Darebin and St Kilda, with just one win separating first from fifth.
The addition of Moana Hope, who booted last 106 goals last season for St Kilda and lined up for Collingwood in the inaugural AFLW season will no doubt give the team a boost.
Just seven rounds in, it's already been a huge year for the "MUGARS", with the team supporting the Hamilton Pride and Inclusion Day in support of the 'Gay? That's OK' campaign in Round 5.
There's been milestones too; Maddy Keryk played her 50th game last week, while the race for the goal-kicking honours heats up after Kaitlyn Ashmore's four-goal haul on the weekend took her to number one at the club.
Gab Pound has been a revelation this year after making the move to defence. Pound, who was selected by Carlton at pick 30 in the 2016 AFLW Draft, spent her season as a small-forward but made her mark in defence for the MUGARS after holding leading goal-kicker Darcy Vescio to one goal in Round 1.
Alicia Eva has been another standout, after having an uninterrupted pre-season and excellent AFLW campaign for Collingwood. Considered one of the smartest footballers in the game, Eva has been instrumental in the MUGARS' great start to the season with her silky skills and leadership.
The club has welcomed 60 new female players this year, with its overall registration now at 175 senior participants.
"The numbers have grown rapidly over the past 12 months. It's a really exciting time for women's football in Australia," MUWFC President and North Melbourne Football Operations Manager Laura Kane said.
The MUGARS have teams entered in the VFL Women's, NFL Reserves, VAFA Premiers and VAFA Division 3, as well as three WRFL junior sides and three Auskick groups, including one at North Melbourne.
The "MUGARS" VFLW side still has some huge matches to come in the second half of the season:
Round 9 v Diamond Creek, Plenty War Memorial Park, Saturday July 8, 2:00pm
Round 10 v St Kilda, Melbourne University Main Oval, Sunday July 16, 2:00pm
Round 11 v Eastern Devils, Mulgrave Reserve, Sunday July 30, 2:00pm
Round 12 v VU Western Spurs, Melbourne University Main Oval, Sunday August 6, 2:00pm
Round 13 v Cranbourne, Melbourne University Main Oval, Sunday August 13, 2:00pm
Round 14 v Box Hill, Sunday August 19, Box Hill City Oval, Saturday August 19, 11:00am
Round 15 v Diamond Creek, venue TBA, Sunday August 27, 2:00pm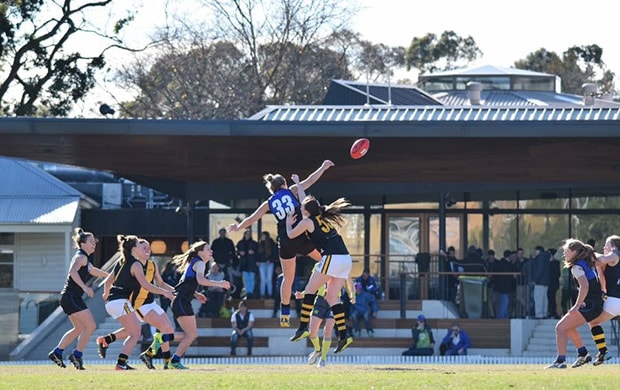 Up in the ruck. Photo: Cecilia McIntosh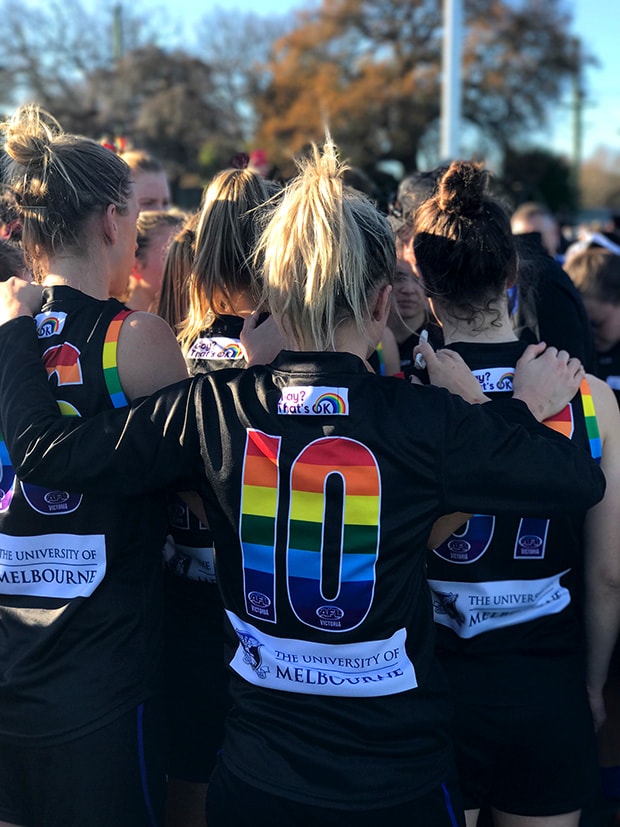 The first VFL Women's Pride Game. Photo: Laura Kane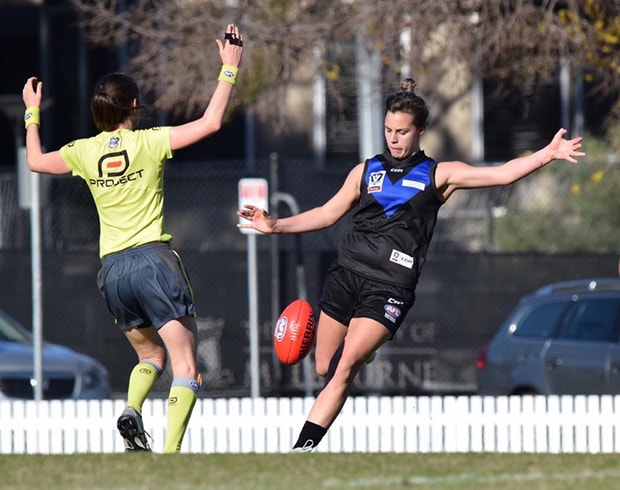 Deanna Berry. Photo: Cecilia McIntosh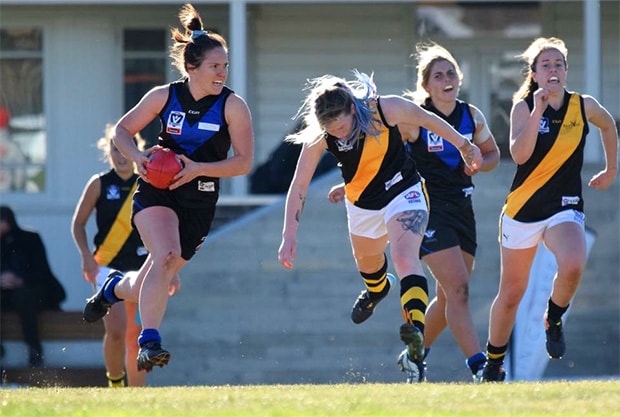 Emma Kearney. Photo: Cecilia McIntosh