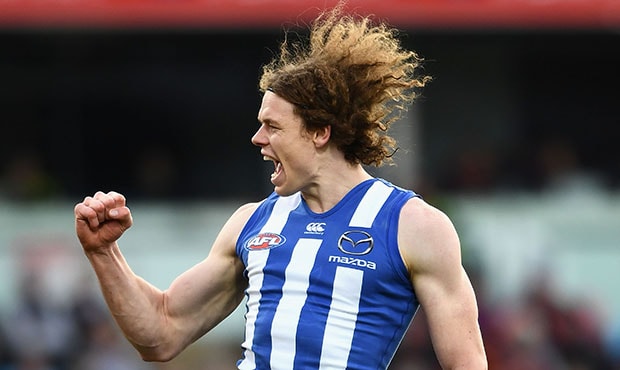 North Melbourne forward Ben Brown ended his Icelandic honeymoon early when the Australian selectors came calling for the Virgin Australia International Rules Series.
Brown is one of several rookies that will face Ireland in the first Test at Adelaide Oval on Sunday.
The 24-year-old, coming off a career-best season, had no hesitation in answering an SOS to be a late addition to the Australian squad.
"I got the message about 10 days ago about midway through my honeymoon when I was in Iceland," Brown said.
"My partner, Hester, she's very supportive, straight away she was on the Flight Centre website trying to figure out how we were going to get home.
"We might have to go on another holiday at some point just to make up for it."
Brown was given his first chance of kicking and catching the round ball at the team's training session at Richmond Oval on Thursday.
Brown booted 63 goals for the Kangaroos this season and is the leading key forward in the Australian squad.
However, marking the ball has proven to be difficult in past series, with small forwards valuable in winning the ball off the ground.
"The ball's going to move differently in the air, so it's going to be a challenge for myself and a couple of other tall players we have in our side," Brown said.
"But I'm pretty confident, with a couple days of training, we should be able to pick it up pretty quickly and make it a pretty good game."
Brown said that with no State of Origin football to aim for, the International Rules Series was something he always wanted to be a part of.
"It means the world," Brown said.
"Dad reminded me how I used to play International Rules in the backyard with my brothers with a trampoline turned up on its side as the goals, so that's my memory of these kinds of games that I used to watch in the early 2000s.
"It's really exciting to be part of it and something I never dreamed I'd be able to do."
The views in this article are those of the author and not necessarily those of the AFL or its clubs