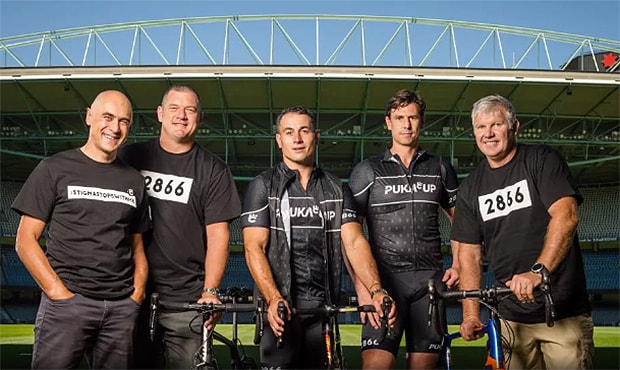 His remarkably honest, open and brave story has touched so many, and now Wayne Schwass is spreading his vital message even further.
Watch Wayne Schwass: A Silent War - Part 1 | Part 2
Having privately battled mental health issues for so many years during his AFL career, the former premiership player has made this mission to help other.
The latest endeavour of his organisation, Puka Up, will see Schwass and 27 other riders suit up for the Ride for Suicide Prevention later this month.
Among those completing the ride from Sydney to Etihad Stadium, former AFL stars Scott Cummings, Paul Licuria, Jusin Koschitzke, and Danny Frawley.
In all, 28 riders will take on the 1,433 kilometre journey.
With 2,866 Australians losing their lives to suicide in 2016 (seven a day), and a further 65,300 attempting suicide, Schwass and Puka Up's goal for the ride is to create a national conversation about suicide prevention.
In partnership with the Black Dog Institute, Puka Up will also deliver six community forums during the ride that will help enable communities to discuss suicide prevention, and ultimately save lives.
To follow Wayne and the rest of the riders on their journey, follow Puka Up via its social media channels below.
Facebook - https://www.facebook.com/pukaup/
Instagram - @pukaup
Twitter - @puka_up
Merchandise - https://pukaup.com/shop
2018 Puka Up Bike Ride for Suicide Prevention Route
DAY 1- March 16 - Brighton to Wollongong - 105.0km
DAY 2- March 17 -Wollongong to Goulburn - 178.2km
DAY 3- March 18 -Goulburn to Canberra - 110.6km
DAY 4- March 19 -Canberra to Wagga Wagga - 260.2km
DAY 5- March 20 -Wagga Wagga to Albury - 134.8km
DAY 6- March 21 -Albury to Shepparton - 183.9km
DAY 7- March 22 -Shepparton to Ballarat - 242.5km
DAY 8- March 23 -Ballarat to Geelong (Stage 1) / Geelong to Queenscliff (Stage 2) / Sorrento to Etihad Stadium (Stage 3) Finishing at Etihad Stadium at approximately 3:00pm- 217.8km
If you or anyone you know is struggling with mental health issues, please call Lifeline Australia on 13 11 14
The views in this article are those of the author and not necessarily those of the AFL or its clubs