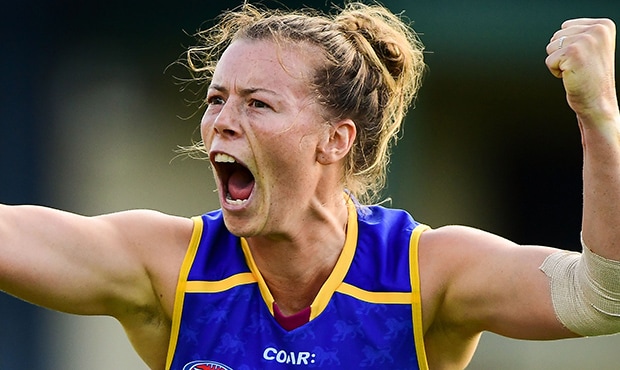 The North Melbourne Tasmanian Kangaroos have secured another two stars with Tasmanian-born Brittany Gibson and Daria Bannister joining the club.
The duo join Tasmanian State League Women's (TSLW) recruit Maddison Smith and re-affirm the club's commitment to the southern-most state.
"Daria and Britt are great pick-ups for us," North AFLW Coach Scott Gowans said.
"Both have shown great determination and skill, and will be important components of our team."
Gibson was picked by the Brisbane Lions in the 2016 draft after impressing with the Burnie Dockers, while Bannister was drafted to the Western Bulldogs in 2017.
"They both moved from Tasmania to pursue their AFLW dreams so it will be really exciting when they pull on the royal blue and white stripes," Gowans added.
"Daria will also undertake a traineeship with AFL Tasmania to further assist in her professional development."
Smith was discovered at the club's AFLW Talent Search, and turned heads with her ball use and strength.
"We are committed to fielding half the team with Tasmanian talent over the coming years and this is a great start," Gowans said.
Gibson and Bannister join AFLW stars Emma Kearney, Jasmine Garner, Jamie Stanton, Jess Duffin, Tahlia Randall, Danielle Hardiman, Jenna Bruton and Katherine Gillespie-Jones.
Brittany Gibson (Brisbane Lions)
173cm – Midfielder/Forward
Renowned for her competitive spirit and physicality, Gibson has all the attributes to quickly become a fan favourite.
The 26-year-old, who took part in an AFLW Grand Final during her time with Brisbane, was drafted from the Burnie Dockers in Tasmania.
In her time in the Tasmanian Women's League, the hard-working forward secured best and fairest honours.
"With her strength and size, Brittany has a genuine physical impact on every contest she is involved in," Harwood said.
"Importantly, she has also shown the tactical skill to play multiple roles, so she will add some real versatility to our midfield mix.
"Off the field, her passion for the development of football in Tasmania is second to none, and we can't wait for her to get the opportunity to play in her home state."
Daria Bannister (Western Bulldogs)
162cm - Midfielder
A strong bodied midfielder, Bannister has long been considered as one of Tasmania's best talents.
Selected with pick 19 in the 2017 draft, Bannister missed the entire 2018 season after rupturing her ACL.
Having successfully recovered from her injury, Bannister plans to make amends for the time spent on the sidelines.
"Daria has the capacity to play as both a strong bodied inside midfielder or high half-forward," Harwood stated.
"We are looking forward to working with Daria through her rehab as she pushes towards a return, and what promises to be a long and exciting career."